Pre-Pandemic Patagonia 2020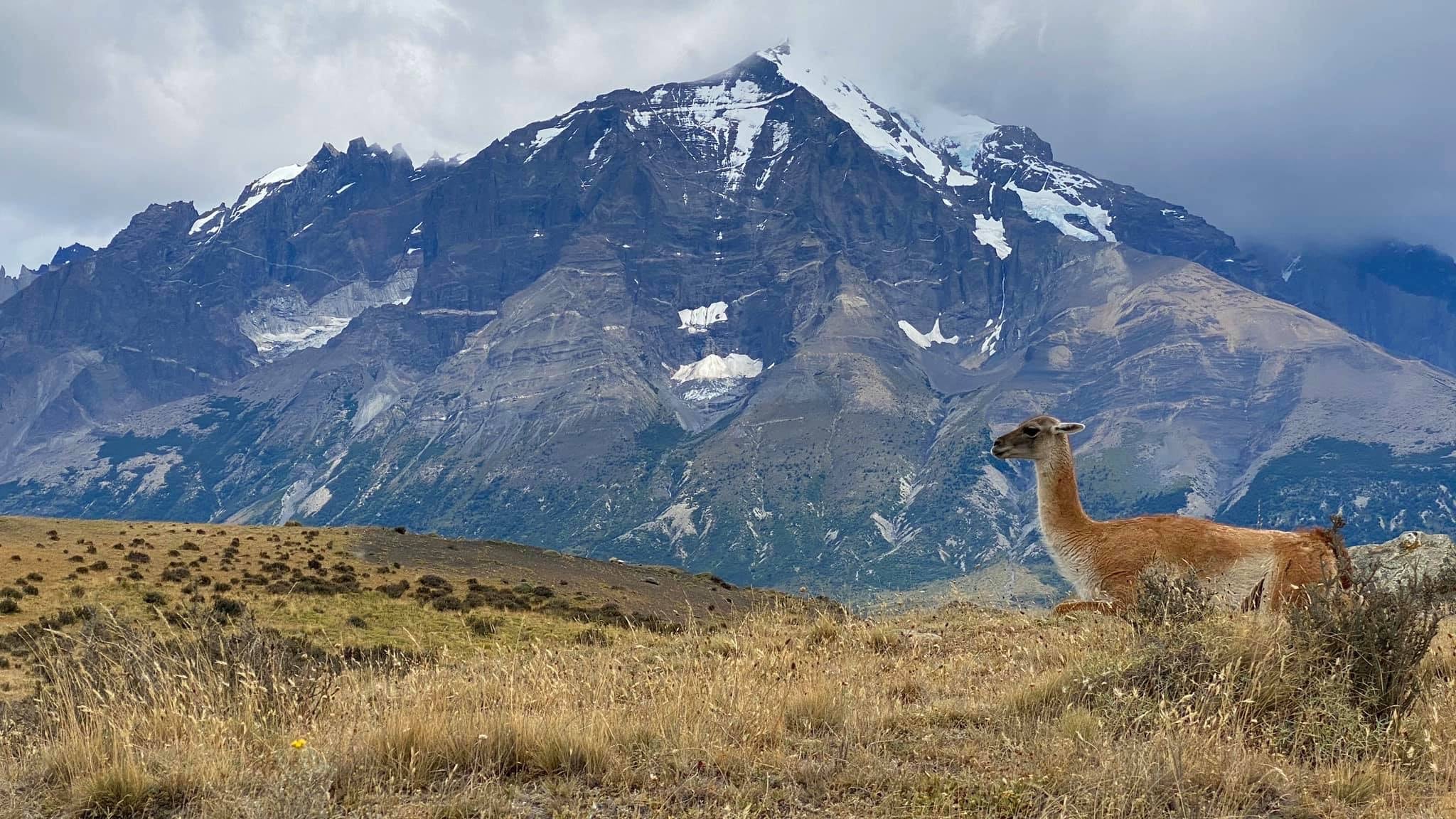 Contrary to what I've read, men wear shorts here. Most everyone wears shorts here. Which makes sense. It's hot. It would have been nice if I'd packed some shorts, so I wasn't the only idiot walking around in pants. Contrary to what the guidebooks say, USD are not accepted most places. And ATMs, while plentiful, don't work worth a shit. Even if they did, the surcharge is 395 pesos to pull out a maximum of 4000 ($6.50 to pull out $65.00). The exchange rate is amazing for the USD though. We had dinner at the most expensive restaurant in the city and it was as cheap as, if not cheaper than, Mexico City.
Rain and thunderstorms don't bother people here. Rain and thunderstorms don't bother us either. Nothing wrong with getting a little wet when it's in the 70's. The weather makes my beard do crazy things. The weather makes my wife's hair do even crazier things.
Our Airbnb is a lot nicer than we expected it to be. We kind of hope the weather stays the way it's been, just to give us an excuse to stay in and be lazy in this awesome space.
11pm dinner reservations are completely normal.
The beer is alright here, the wine is very good, and the steak is probably the best we've ever had.
Cities are not really my thing when traveling. BA hasn't changed that. A day or two is going to be plenty. There are still a few more things we want to see, and more meat to consume, but I feel like we got a good feel of the place today. There are old buildings, new buildings, and colonial areas. There are cafes, bars, and restaurants. There are parks, statues, cathedrals, monuments, and museums. There are a lot of people and some cool street art.
Evita is a big deal here. Legs (and showing them off) are a big deal here. And there is a women's clothing store named Kill….
I think I could live here (as well as Lisbon, Barcelona, Bangkok, etc.) for a while, but a short visit is always enough as a tourist.
We're excited to move on to Patagonia in a couple days, but glad we get to see the city.
43rd birthday dinner.
Probably the best steak I've ever had.
The free champagne and dessert was a nice touch.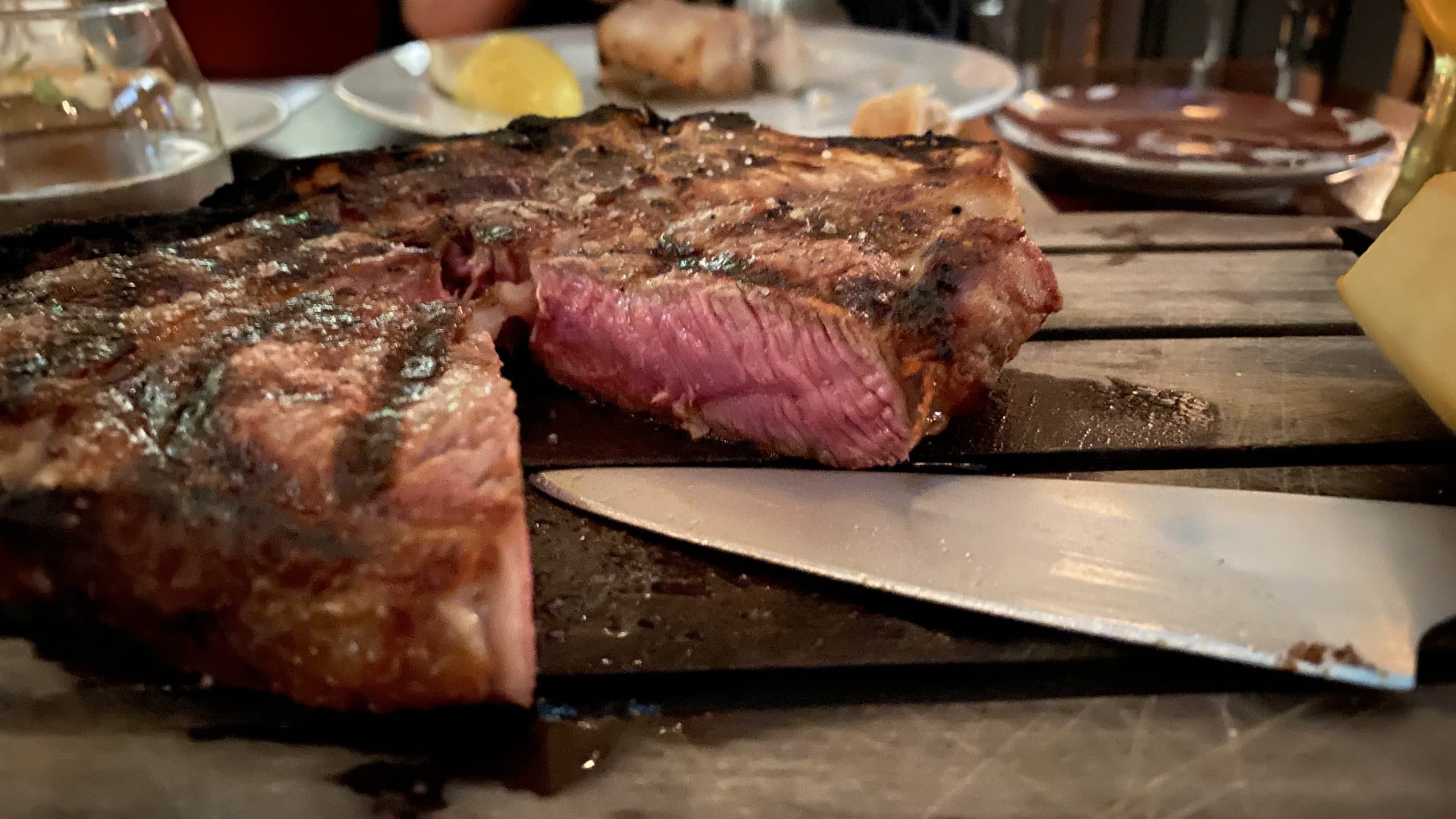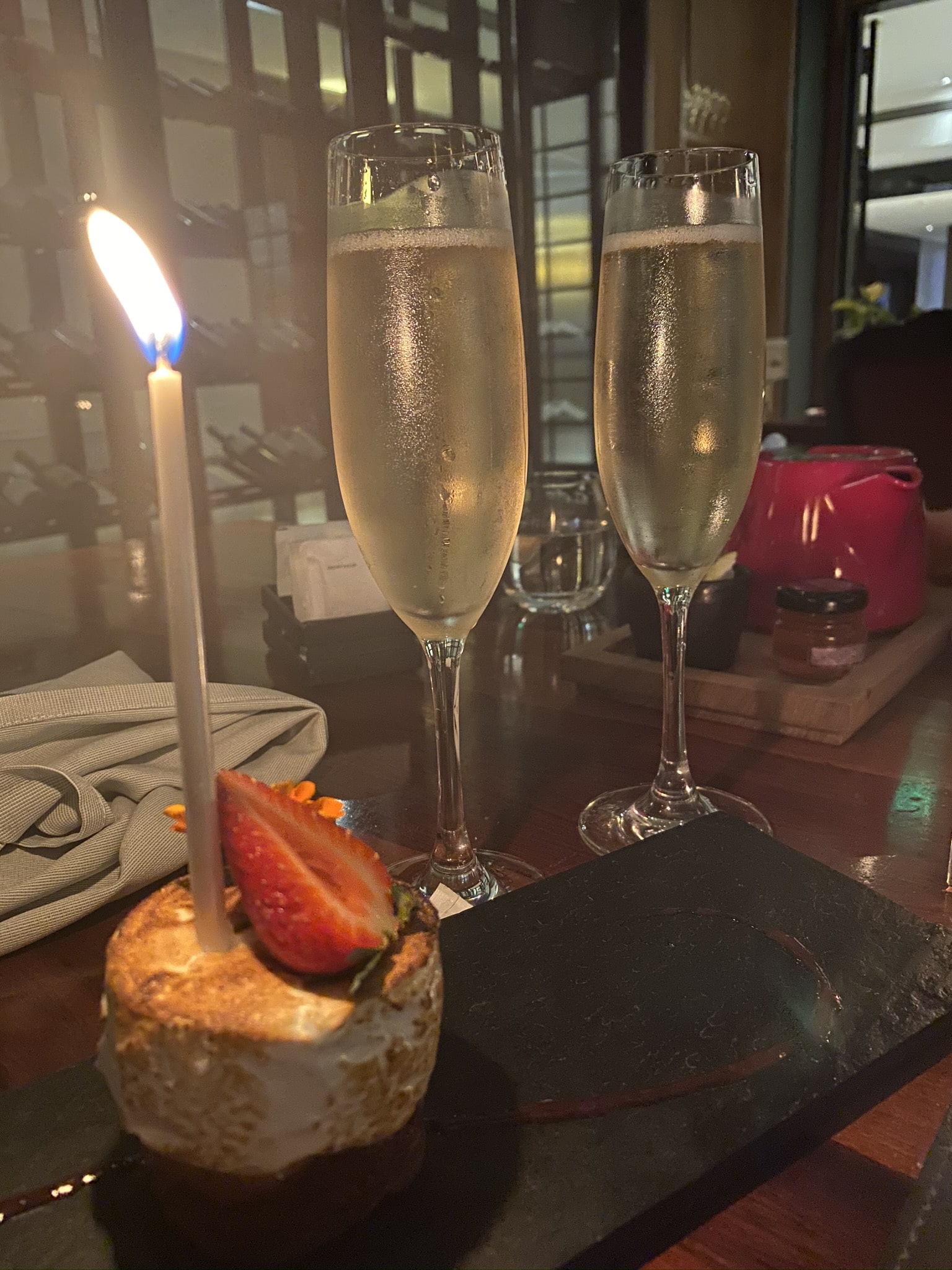 Heading to Uruguay for the day. My wife is concerned about the ferry ticket I just handed her. It doesn't help I won't show her mine. 😉
Spent my birthday in Colonia, a small World Heritage city.
Wandered around. Spread some of Dad's ashes. Napped on a park bench in front of the oldest church in the country. Had an incredible lunch on the water. And drank beer on the patio at a local brewery.
Colorful, full of life, working class neighborhood in Buenos Aries.
Cementerio de la Recoleta

They say you can't take it with you, but you can spend it on a mansion for your remains.
Our gateway to Patagonia.
First time glacier hiking today. The guide said we were extremely lucky with the weather.

Didn't see any calving but heard it. Sounded like gunshots followed by a loud splash.

Ended the hike with whiskey on ice. It was almost as good as the glacier water we drank from the source.
Interesting rest stop along Route 40 where Butch Cassidy and the Sundance Kid hid out for a while.
We made it! And it only took 7 1/2 hours round trip!

The weather was crazy at the top.
Insane winds and rain, and clouds masking the face of Fitz Roy, but it was still worth it to see Laguna de los Tres.

We are not big hikers, but it was coolest hike either of us has ever done.

The sun was setting behind the range when we drove into the little town of El Chaltén last night, so we saw Fitz Roy in profile from a distance, but the weather came in today. It made for perfect hiking (not too hot, not cold) but the summit was taking a beating. I had taken a beating by that point as well.

The last hour ascent was rough!

Our local guide (glad we booked one) and the couple we hiked with (on their honeymoon) were awesome!

Couldn't have asked for better people to spend the day with.
Tried to sleep in today. Woke up with the sun.
Looked out the window and Fitz Roy was perfectly clear.
Got up and went for another hike.
Fitz Roy was wearing a cloud crown again by the time we got to Mirador Torre. About an hour later it was completely covered, so we came back to town, had one of the best Italian lunches we've ever had.
Los Cóndores and Las Águilas
One last short hike, while my wife gets a massage before we leave El Chaltén.
Different country, different currency, same old stupid scenery.
What a ridiculous part of the world.
I've been writing so much about the scenery out here, but all the little towns in Patagonia have been cool as well.

Incredible food at insanely low prices. Some of the most welcoming people anywhere.
And just a laid-back feel.

Reminds me more of Scandinavia than other South American towns I've been.
We (and by we I mean me) don't really believe in the Hallmark holiday, but I got her a white horse for an anniversary this time. I think it makes up for all the years I did nothing. 😉

The rest of the day was spent eating well and learning about ranch life on this working estancia.

I ended up getting allergies and my eyes felt like they had rocks in them toward the end,
but it was a great experience overall.
This is NOT Penguin Island. No penguins here.
This is Punta Arenas, with the Strait of Magellan on the horizon. This is the furthest south I've ever been (by 1,000 miles: 53°9'17.4" S) prior to this trip. We are a 2-hour flight away from Antarctica: the one continent I haven't visited.
Our Magdalena Island trip was canceled due to weather. It's nice here, but rough on the Strait. The boat would have had a hard time docking.
Disappointed, but not defeated. This trip has gone like clockwork up until this morning, so we were prepared for something to go wrong. Now we have a relaxing day of doing nothing before stating the journey home.
Chile is a beautiful country, but it is also a country with an uncertain future. Mass protests, rioting, arson, and destruction have been the norm (in the cities, not the parks and small towns) since October last year.

Santiago was hit worst (most of the public transportation system has been destroyed), but Punta Arenas is also plastered in fresh paint, scarred with smashed windows and doors, and has the smell of fresh smoke from burnt down buildings.
The people want change and the resignation of President Pinera. The government isn't giving them what they want fast enough. It doesn't help that the Carabineros police force has been accused of torture, false imprisonment, and sexual violence. Many people have been killed, thousands injured, and close to 10,000 have been arrested.
The last mass demonstration in Santiago (yesterday) was nonviolent, but the situation is far from over.
That said, we feel completely safe here. We hadn't been in a Chilean city until we arrived in Punta Arenas last night. Everyone has been great here. This isn't about us…it's about them and their government.
We start our journey home tomorrow and will be in Santiago for the day but will just stay away from the protests if they are happening.
Unwritten rule of travel: When you notice guys wrapping bandannas around their faces and donning gas masks, right before you hear loud pops and see a fire in the middle of the street, you go back to the airport.

We were having a nice day in Santiago, checking out the historic buildings and hanging out in the parks, when I decided I wanted to see the epicenter of the current situation here. I wanted to see where the state decided militarized police were the best response to high school girls protesting a subway fare increase.

We were walking around Plaza Italia, taking photos of all the political graffiti and commenting on how calm it was compared to what we see on the news (just Google Santiago protests and check out the images) and in a split second the mood changed. We didn't stick around to see what happened next.
We are home after 15,478 miles of travel!

101.2 miles on foot
25.3 miles actually hiking.

Lots of mountains, lakes, steaks, seafood, weird plants, and amazing people…

We drank water we collected from the top of a glacier, took a ferry to spend the day in Uruguay, and spread some of Dad's ashes in the wind at the base of Fitz Roy.

We were educated on some history, got an extremely close glimpse at some civil unrest, and my wife taught me that you can eat a peach like an apple, fuzz and all, which I find very strange.

We rode white horses, hung out with guanacos, ate fresh lamb on a working estancia, and saw flamingos and black neck swan.

We learned from a Venezuelan couple that it's much worse there than we are being told, but that Trump is actually helping things…which led to a US politics conversation with a guy who interviewed for the CFO position at Google, but didn't get the job and is now retired and traveling the world with his wife.

We also discovered things in Argentina are 3-4x cheaper than Chile.

There were only two disappointing things that happened: our penguin trip being cancelled and my wife eating all my Pringles while waiting for a ferry on a rock in the middle of nowhere, so I had to starve to death. The fact I didn't have to step foot in a single museum the entire time (a personal goal for me) almost made up for both.

It was a successful journey overall.