Solitude in Finland in 2021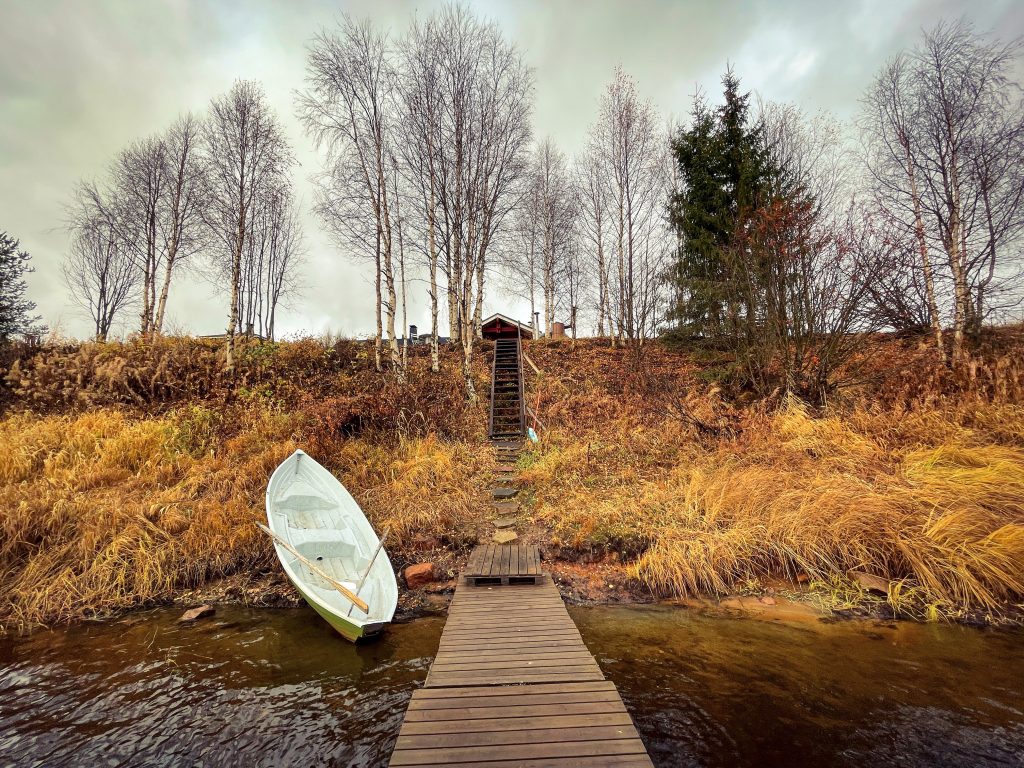 Exactly one year after my first post-COVID trip, to the Balkans, I found myself in Helsinki on a beautiful autumn day.
I wandered the city without a fixed destination. Dazed and confused from a long journey over the Atlantic, Helsinki's welcoming aura was a comfort.
Little paths wound through the small city. Trees almost outnumbered buildings.
It was a Sunday. Many people were out, but everything was quiet. The sun shone on families taking photos in piles of fallen leaves, children running around in playgrounds, and couples walking along Toloviken Lake.
The original purpose of this trip was to visit Russia for the first time, but my visa wasn't going to be valid until October 9th, so I took a prop plane up to Finnish Lapland; an area famous for Santa Claus' village, Northern Lights, and having more reindeer than people.
My first observation came at the airport, where the staff was overly friendly. I tried to gate check my roller bag when I realized how small the plane was, but they told me I'd be fine. No strict luggage rules. No attitude. Just a smile and a thank you.
The same went with the rental car. No upselling, no hassle; just a couple signatures and a set of keys.
My first stop was Santa Claus' post office to mail a letter from my daughter. Then I crossed into the Arctic Circle and drove a half hour north of Rovaniemi to the cottage I rented for the week, dodging reindeer along the way.
Finnish Lapland

Traveling halfway around the world to a landscape and climate I could have experienced much closer to home might seem odd, but there is something about being on foreign soil. There is also something about being alone.
I wasn't built to be around people all the time, so Lapland was a great place to spend a few days in solitude.
It was cold, wet, and dreary the entire time I was there. I fed the fireplace with wood every hour, sweat myself silly at 135 degrees in the sauna, and searched the sky for Northern Lights. Unfortunately, the clouds hid any colors that might have been up there.
I listened to a lot of Emmylou Harris and had extremely vivid dreams every time I fell asleep. Working Colorado hours (from about 6pm to 1am) messed with my mind a little as well, adding to the feeling that I was living in some sort of dreamland.
I could have gotten lost in laziness at my cottage, so I decided to take a drive one day.
There was a sign on the road for Orkani Art about an hour from where I was staying, right outside of Pello.
I pulled off and hiked along a trail littered with art projects. It was eerie to be out there by myself. I never knew what I was going to come across around the next bend.
These are the kind of strange things I love to find when exploring a new region.
I didn't see a single person, and I hadn't spoken to anyone for days, so it was a little scary when I came across the little plaster girl.
It was damp and misty, and the only sounds were the dripping moisture from the trees.
I spread some of my dad's ashes with the girl, so they could look after each other, before heading back to the car.
I stopped by the Arkitum Museum when I got back into the little city of Rovaniemi. I really don't know why I keep trying to like museums. They are not my thing.
There was some cool photography, but I didn't linger.
A couple days later I was driving to the airport for my flight to Tallinn. It was pitch black outside that early in the morning and I had nightmarish visons of hitting a reindeer at 100km/hr.
I was also worried about entering Russia after Estonia because of the ever-changing COVID rules.
But it all ended up working out, with no reindeer or rental car casualties.
I kept to myself while in Lapland. There weren't any restaurants near my cottage, so I ate frozen meals from the store like a bachelor.
When I arrived back in Helsinki after my journey through the former Soviet States, I went to a traditional Lapland restaurant in the city.
I had reindeer filet with a locally brewed beer. It was amazing. Not gamey like venison. Expensive though. Especially after coming from Georgia where everything was so cheap.