How to Visit Saudi Arabia in 2022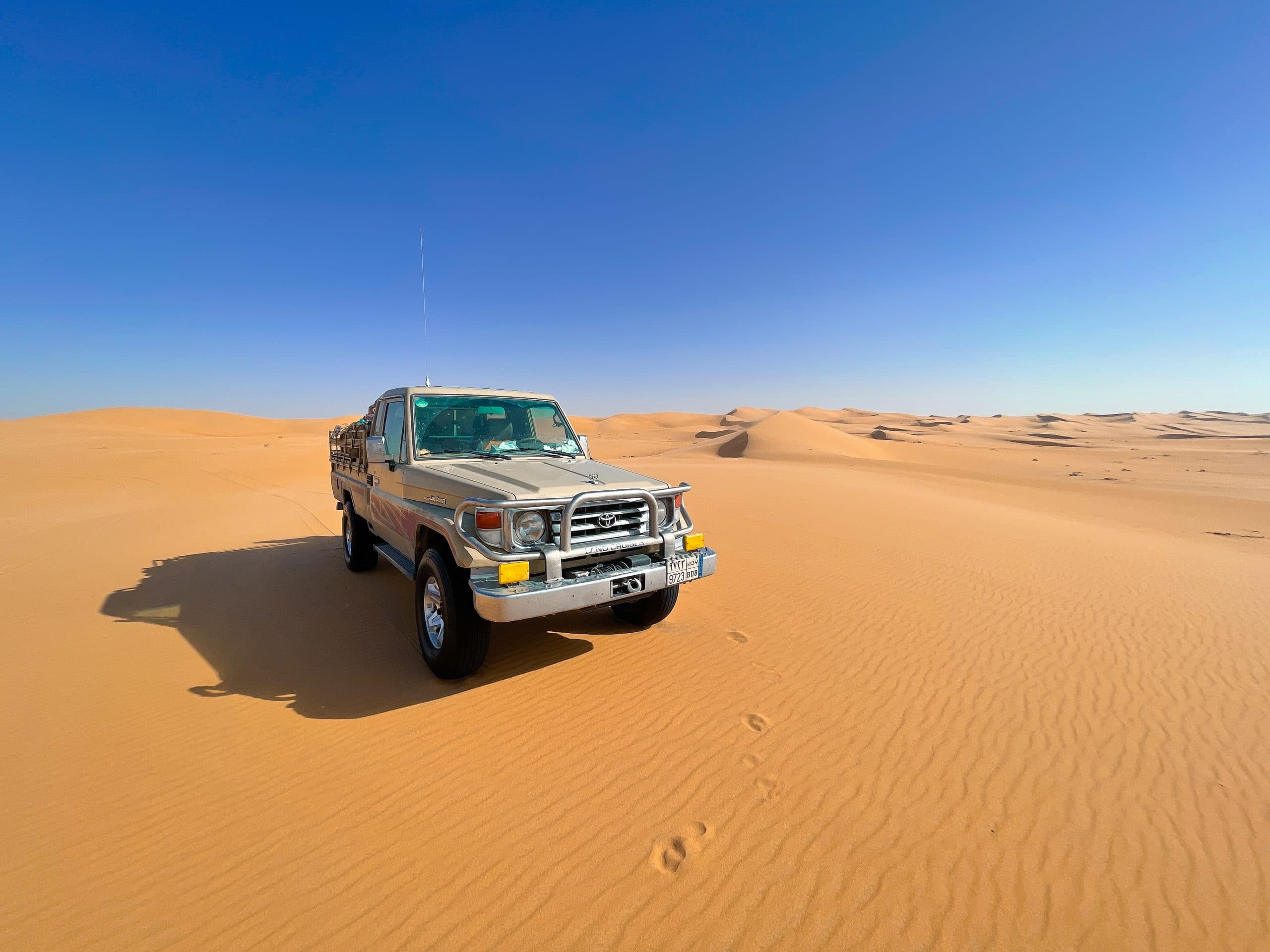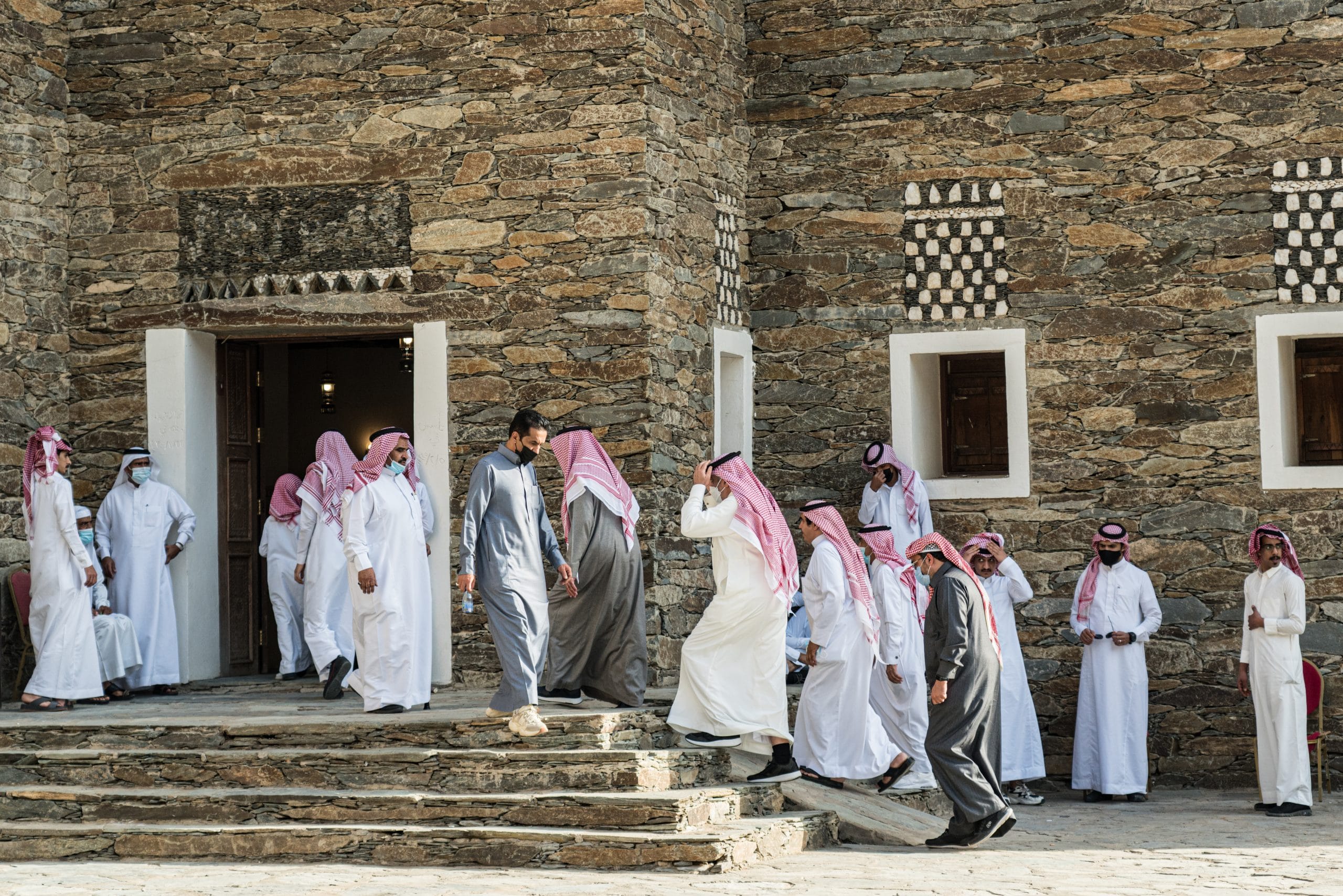 On September 27th, 2019, the Kingdom of Saudi Arabia introduced an eVisa program. One of the most secretive countries on Earth had been gradually adopting tourism, but this program blew the doors open. Unfortunately, the program was put on hold due to COIVD, but has since been reestablished. People from 49 countries can now visit for up to 90 days on a multiple entry visa that can be obtained online in about 15 minutes.
This means the intrepid traveler can now visit sights that have been off limits for a long time. Cities like Riyadh and Jeddah, old towns like Al-Balad and Al-'Ula, epic deserts in Qassim and The Empty Quarter, amazing road trips in the south, diving in the crystal-clear waters of the Red Sea, religious experiences like Medina, archeological wonders like Hegra, architectural wonders like the Maraya Concert Hall, and more camels and Arabic coffee than you'll know what to do with: these are now all within reach. 
Saudi is more than just sheesha and sand. Tourism is in its infancy, so patience is required, but the hassles are well worth the experience.
I spent three weeks traveling around the Kingdom. You can read about my experience here. What follows is a guide to visiting Saudi yourself. Everything included in this guide is from firsthand experience.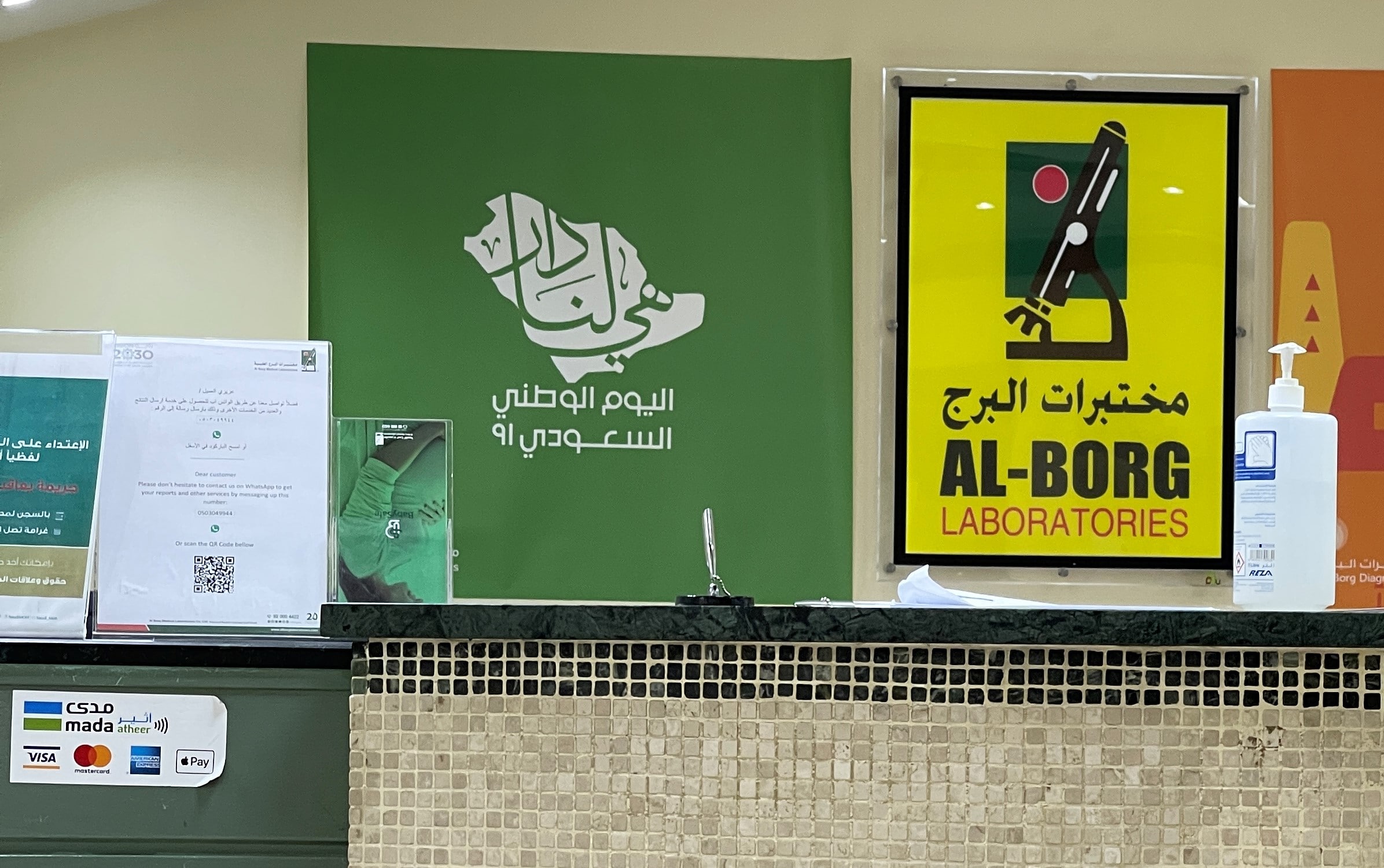 As of March 5th, 2022, visitors no longer need a negative COVID test to enter the Kingdom. As of March 9th, 2022, you no longer need proof of vaccination to enter either. You will still need to have insurance that covers COVID, a health disclaimer form, and the Tawakkalna application installed on your phone. You will also want to register your vaccine status (if you are vaxed) with Muqeem before arrival. Outdoor mask mandates have been removed, but some indoor rules still apply.
Insurance:
Covered in the insurance section below. I was never asked for proof of insurance when I visited in January/February of 2022.
Health Disclaimer Form:
I don't believe I was asked for this either, but it can be found here.
Tawakkalna:
The Tawakkalna application is not just for visitors. Most people in the Kingdom have it installed on their phone. You can download it but cannot register yourself until you are in Saudi Arabia. I tried to use a VPN to register before I got there but it does not work over VPN. In fact, it probably won't work even if you are in the Kingdom if you have VPN active. I've heard reports that even having VPN software installed can cause it not to work.
The app will show a barcode surrounded by a color-coded box. You will be asked to show it when you enter some places in the Kingdom. If you are Green, it means you are fully vaccinated (plus booster) or have been tested recently. The other colors vary.
Mine was purple even though I am fully vaxed. That meant I was supposed to quarantine for 5 days and take 2 PCR tests (under the rules when I was there). I was sent in circles on the phone with Tawakkalna support, the Ministry of Health, and Muqeem. It was a nightmare. Then I got a hold of a local woman who told me to delete the app and just show my vaccine card when asked. That worked. I used my vaccine card for the first week in the country, but I did get two PCR tests during that time, just to make sure I would be good for the rest of the trip. I got the app to turn Green before my first domestic flight. I could have survived the entire trip without it though. The new rules in effect in March negate this problem.
Muqeem:
The Muqeem Portal is where you will register your vaccine information 72 hours before arrival. When you get done, you will receive an arrival form. Keep this form. You might be asked for it. This form can also be used to prove you are fully vaxed in case they don't link your vaccine status with Tawakkalna like they are supposed to.
As of Feb. 1st, 2022, you will need to prove you've received your booster shot (if your second dose was received over 8 months ago) for most vaccines in order to be considered fully vaxed. Again, you don't need this to enter the country anymore, but you may need it while in country.
COVID Testing:
I paid $40USD for a PCR test in Riyadh. It was advertised as a 24-hour turnaround, but I got results back in about 18 hours. There was a 4-hour option for $120USD. I used an Al-Borg location. It was a throat swab.
This site has a list of testing locations
U.S. Citizens:
When returning to the United States, all passengers two years old and above will need a negative COVID viral test taken within one calendar day prior to departure for the U.S., or documentation for 'proof of recovery' in the past 90 days. I used proof of recovery for return from Saudi Arabia without issue. I just needed to provide documentation of a positive test no older than 90 days and a letter from a physician saying I was fit for travel. I have also used BINAXNOW Ag Card tests with the Navica app to return from other countries. They are quick and easy home tests with official documentation.
Masks:
People wore masks almost everywhere in Riyadh when I was there in January/February 2022, but they were less common in Jeddah. Masks seemed optional outside the main cities.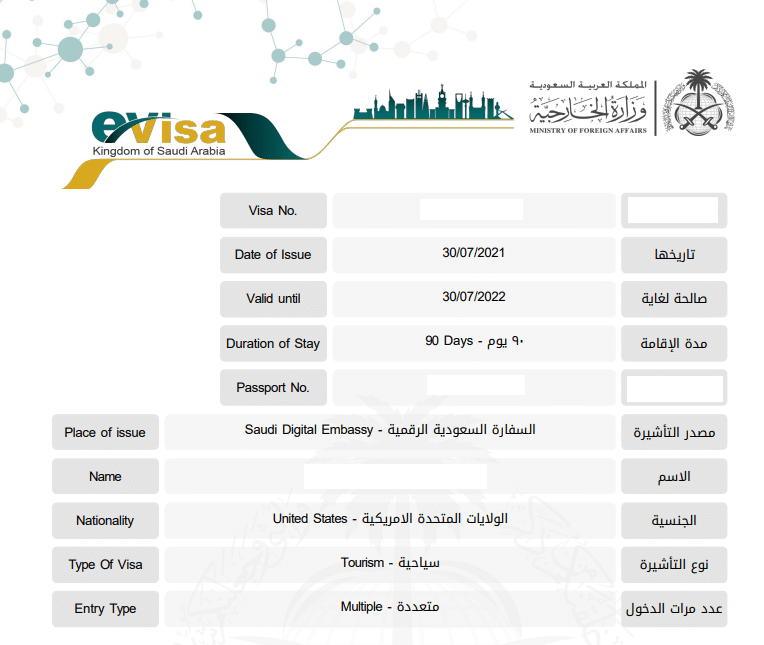 Visitors from 49 countries can apply for a one-year, multiple entry eVisa allowing stays of up to 90 days.
The visa fee (which includes medical insurance covering COVID) is SR480 (about $130USD).
You must have at least 6 months validity on your passport.
Overstay fees are SR100 a day.
It took about 15 minutes for me to receive my visa via email.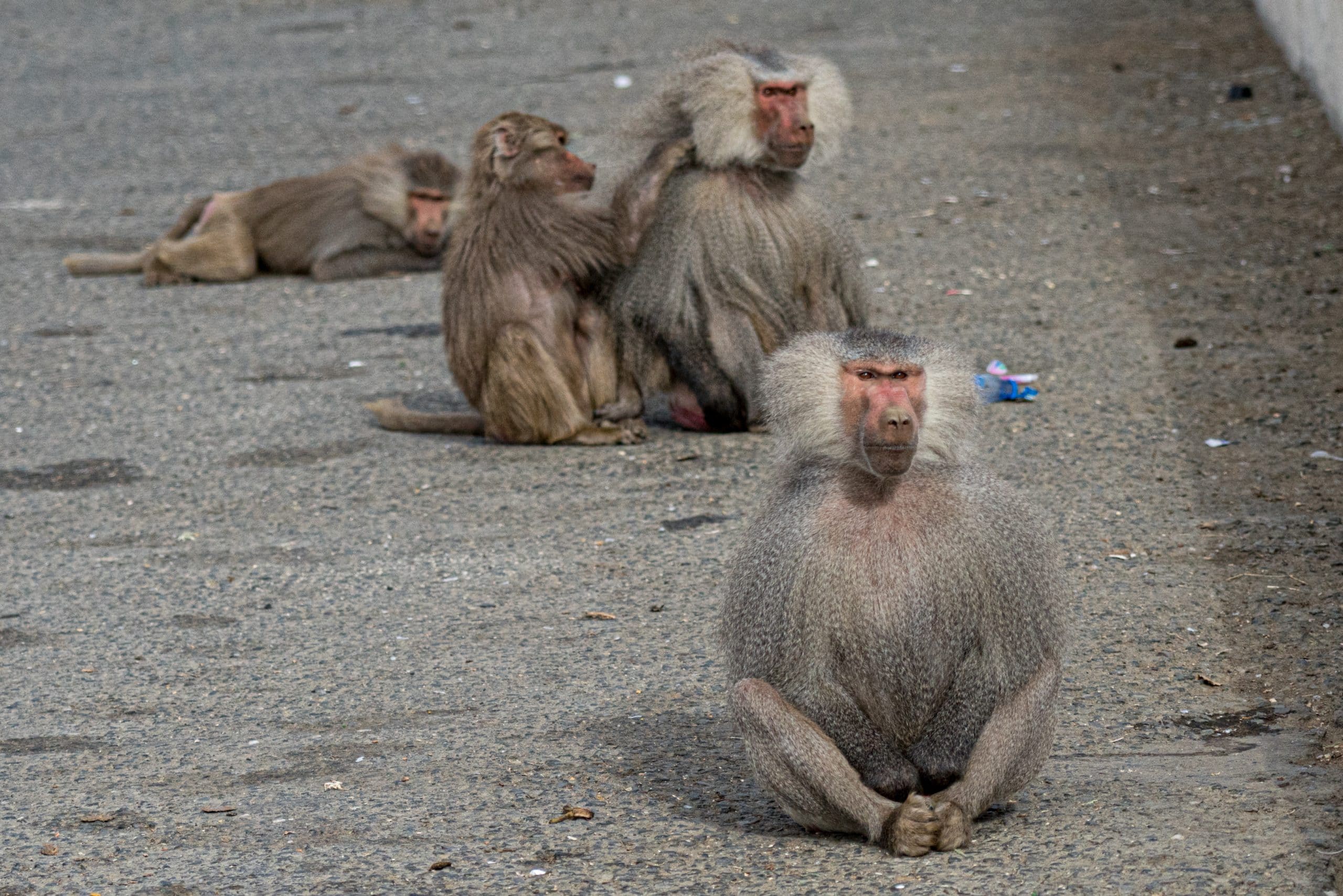 Health insurance covering COVID is mandatory, but you purchase it with your eVisa.
When you purchase your eVisa, it will make you purchase health insurance.
This health insurance is included in the eVisa cost of SR480.
The health insurance document will not be emailed, it has to be downloaded from the eVisa site after you've been approved.
I was never able to download the insurance document.
I was never asked for the insurance document.
I have no idea what the insurance covers.
I like the peace of mind of having real travelers' insurance, so I also purchased a policy through iati.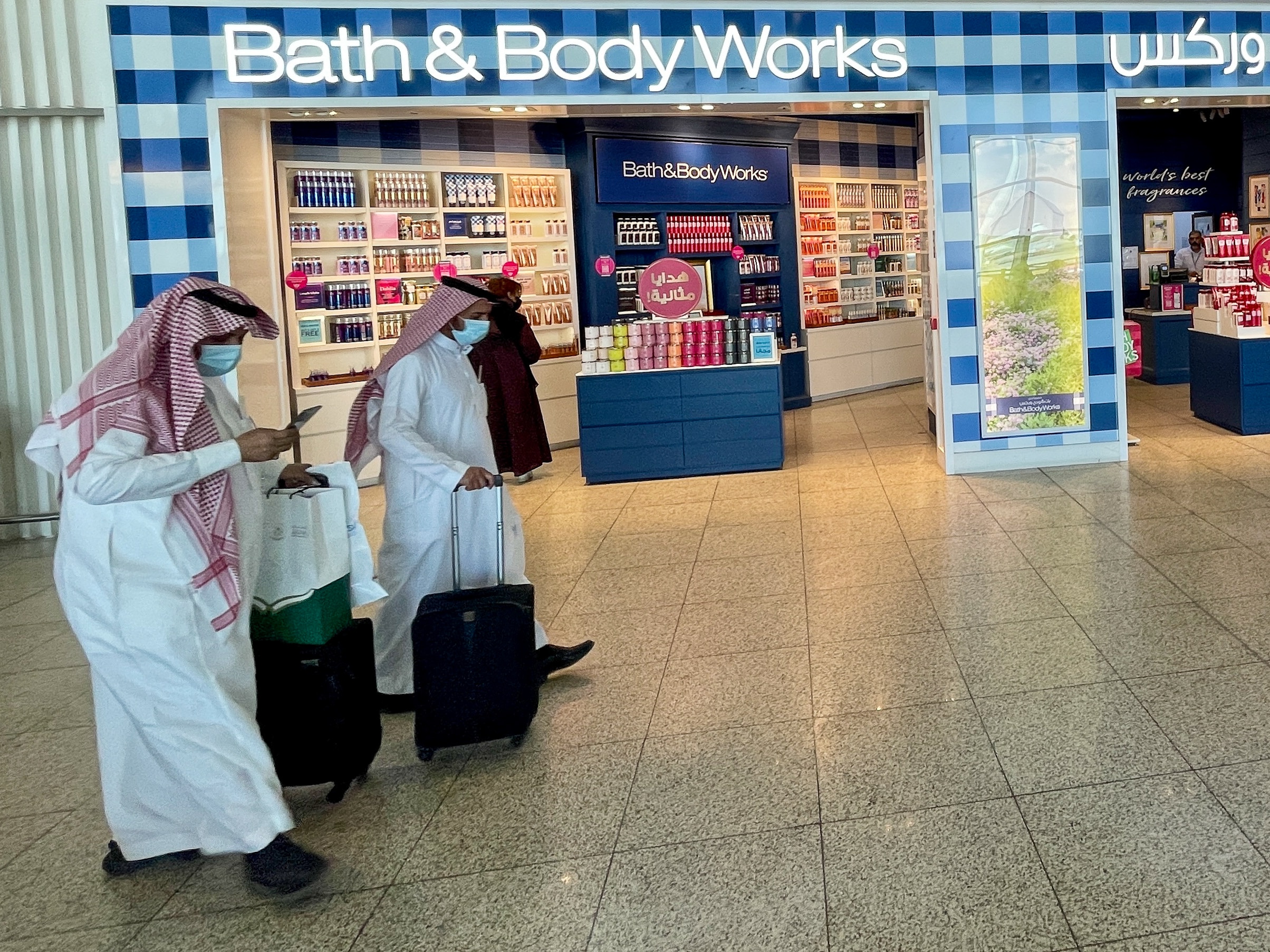 Arrive at your airport of departure prepared to explain yourself. Many airline agents will not be informed on the rules for entering Saudi Arabia. Sometimes they will ask for a "quarantine package", or even ask if you are a pilgrim or diplomat. They don't realize the Kingdom has opened to tourism. I didn't have these issues, but it's best to print out information from the consulate site, a copy of your accommodation booking, vaccine card, eVisa, etc. The more prepared you are, the easier it will be.
I arrived in Riyadh, but I believe the process is the same in Jeddah.
There was a long line for immigration when I arrived at 8:00pm.
Those of us traveling on tourist visas were pulled from line and directed to another, much shorter line upstairs.
Once upstairs, I was asked for my eVisa, passport, and proof of vaccine.
After the girl reviewed my documents, she took my photo and my fingerprints.
Once that was done, I was given a slip of paper which allowed me to skip the long line at immigration.
Luggage was sent through a scanner at customs, but I didn't have to remove anything from my bag.
I arrived in Terminal 1 in Riyadh, but I walked to Terminal 2 after passing customs.
Terminal 2 is where most of the cash exchange, ATMs, and SIM shops are; it is also where you can meet your Uber if you go that route.
Buying a SIM card at the airport is highly recommended. Some people I met up with later had a very hard time finding one outside the airport. There are shops, but the system was always down, or they were closed.
I paid SR160 for 50GB on the stc network.
Once you have a local SIM, you can register on the Tawakkalna app and (if you're lucky) it will have your vaccine info and show Green around a QR code.
I paid SR120 for an Uber from the airport to the old town.
The whole process, from landing until my Uber dropped me at my hotel in the old town, took a little less than 2 hours.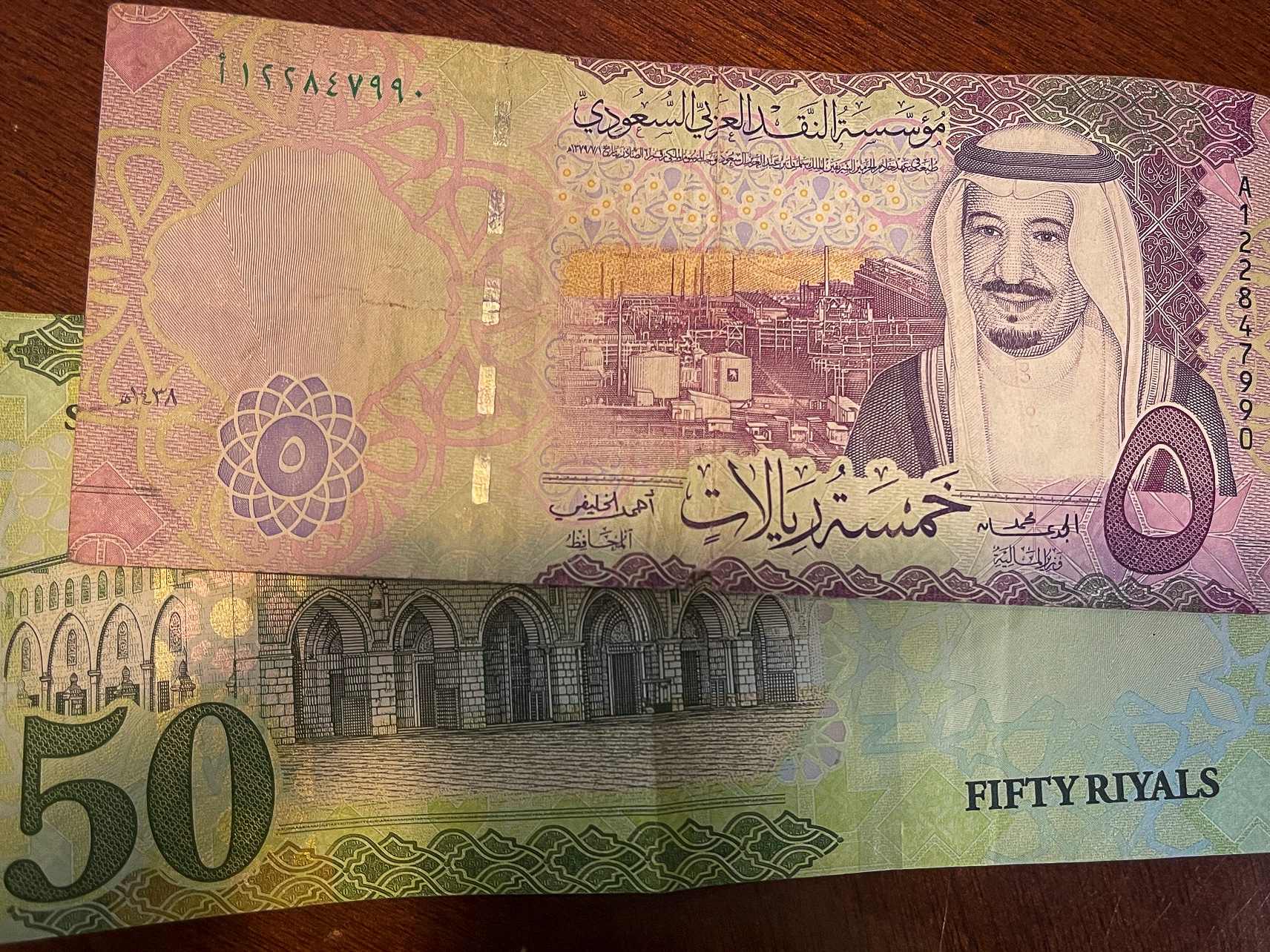 The Saudi riyal (SR/SAR) is the official currency of Saudi Arabia. The exchange rate has been fixed at SR3.75 to $1USD since the 80's, although you won't get that rate if you exchange cash in the airport. I really didn't find anywhere that had a great exchange rate. The good news is most places take credit cards and some businesses and tour guides will accept USD. I didn't have Euros with me, so I can't speak to that. ATMS are easy to find, so I recommend using them to get cash for those times you'll need it. I found I used cash mostly when on the road between major cities.
Saudi Arabia is not a budget destination. I am not a budget traveler, so I didn't dig deep for deals, but overall, I found Saudi to be quite expensive compared to other countries I've visited in the Middle East.
If you want to travel on a budget, I don't recommend traveling solo. The more people you have, the more you can split the costs. For example, a rental car, taxi, driver, gas, and/or private tour will cost the same whether you have one or four people.
Saudi Arabia is a very large country, so distances between places are great. Renting a car for your entire trip is an option if you have time (I would just be careful with the ultra-budget companies), but domestic flights are reasonable and can save you a lot of time driving through featureless landscapes for hours on end.
Examples of what to expect to pay (based on what I paid for what I consider 3 1/2-star traveling):
Hotels with breakfast: Average SR375 a night (some a bit more, some less)
PCR Test (24-hour turnaround): SR150
SIM (50GB): SR160 including VAT
City-based Uber: SR15-30
Food: Ranges from SR35 for fast food to SR100-200 for a meal in a nice restaurant
Alcohol: Doesn't exist
Sheesha: SR100-150 (most expensive sheesha I've ever had)
Rental Car (with extended mileage): SR100-300 a day (depending on agency, how many kms, type of car, and insurance you need)
Gas/Petrol: SR2.19 per liter
Domestic Flight: SR130-375
Single dive in the Red Sea: SR420
Full-Day Private Tour with guide: SR750-1100
3-day Empty Quarter Small Group Tour: SR3000 per person
7-day Group Tour of Jeddah, Medina, Yanbu, Al-'Ula, and Tabuk: SR8000 per person
3-Day Private Tour of the South with driver/guide: SR4200 (this would have been the same price if I was with 3 more people, but I was alone, so I didn't do this. I rented a car and explored the south on my own).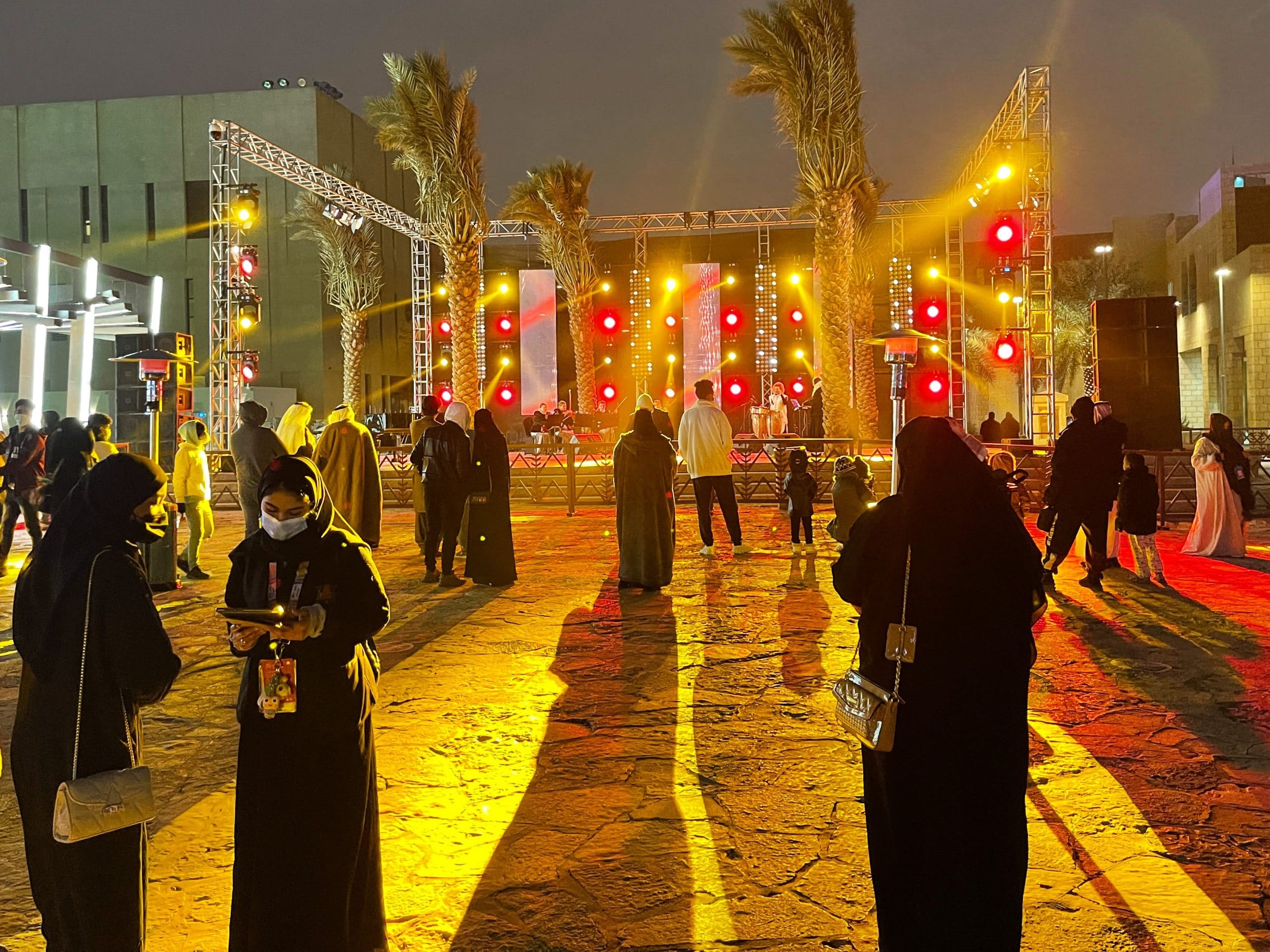 Sim cards are easy to pick up in the airport. There are plenty of stores outside the airport, but for some reason I found them to always be closed or to be experiencing issues with their system. Maybe it was just bad timing, but I would recommend getting one at the airport to save yourself the hassle. 5G is available in most of the country and relatively fast Wi-Fi can be found in most places (unless you are deep in the desert).
I bought a 50GB stc card at the airport and paid SR160 (including VAT). The service was great in most locations. My main service is AT&T, so when I did not have good coverage with stc, I would switch to my primary SIM and use my international service. That was very rare though. 
Here are some sample rates from a place in Jeddah…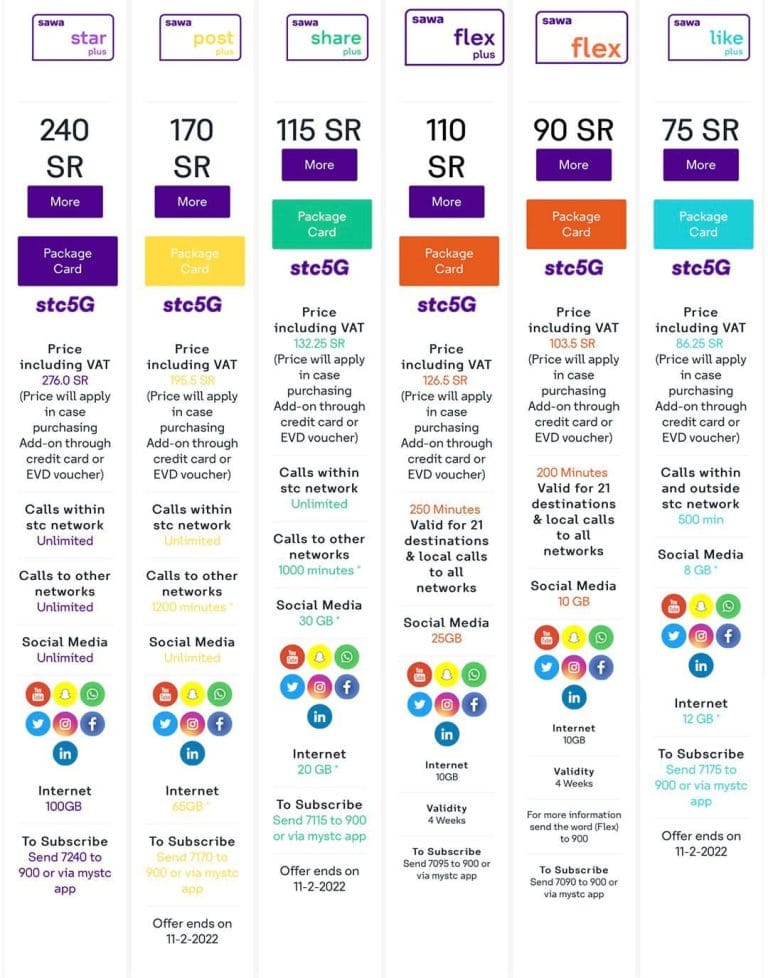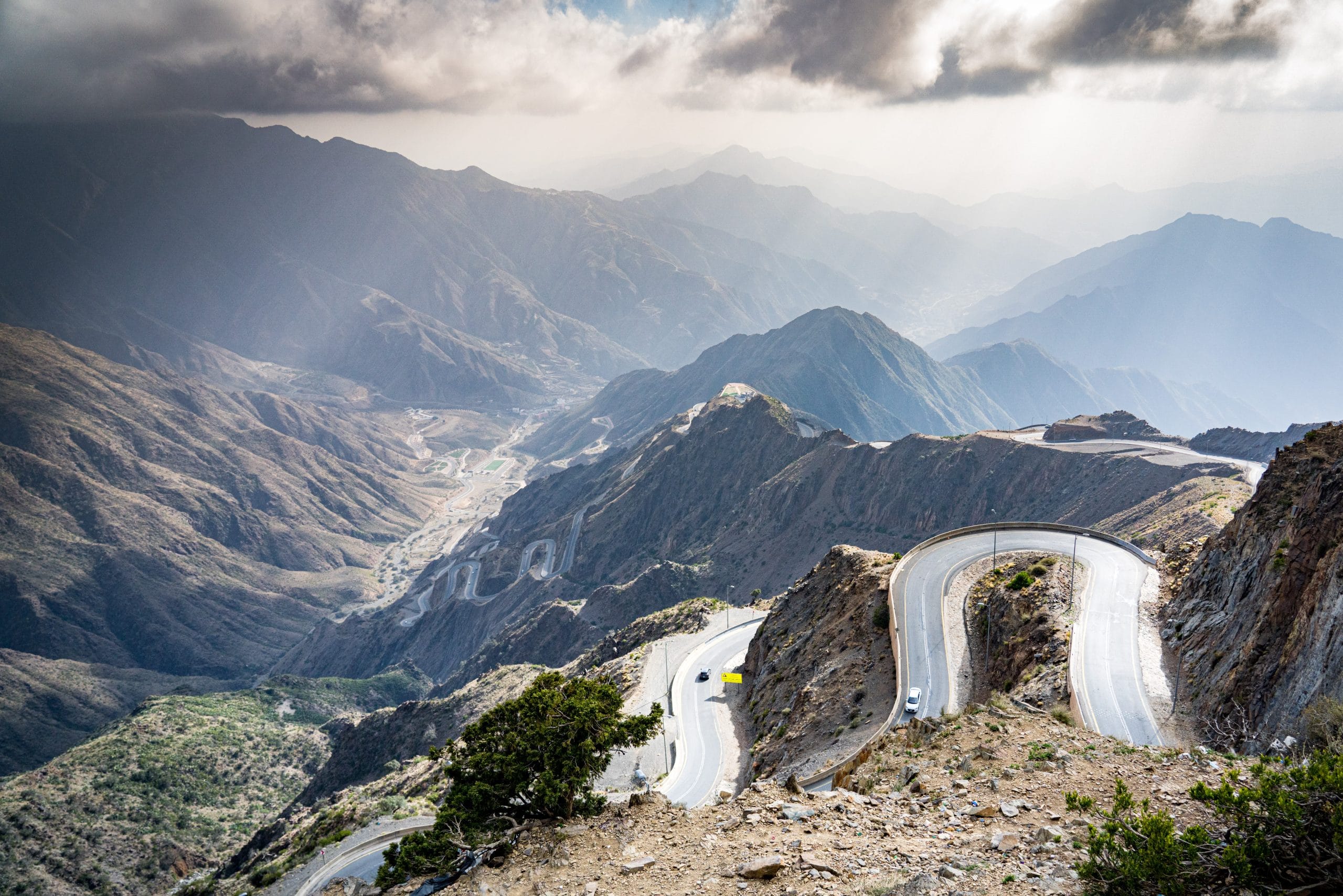 Public transportation is almost non-existent in Saudi Arabia. There is a metro system being built in Riyadh, but it is not complete yet. I know people who have traveled some of the country by bus, shared taxi, and hitchhiking, but they don't recommend it. Due to the lack of a true public system, and the sheer size of the country and great distances between places, I chose to take a few domestic flights and rent a few cars. I used Uber and Careem in the big cities.
Taxi:
Taxis are available at the airport and in the major cities, but I preferred to use Uber and Careem for a set rate and to avoid the language barrier.
Uber and Careem:
Available at most airports and almost everywhere in the main cities. I used these services mostly while in Riyadh. I switched back and forth based on availability and rate. Most of the cars and drivers were good. I only had a couple experiences with bad cars and unsafe drivers.
Private Driver:
I hired a private driver to take me out to the Edge of the World and the Red Sand dunes outside of Riyadh. I paid SR1000 for a full day of sightseeing outside Riyadh with a private driver in a 4×4 vehicle.
Car Rental:
Rental car prices vary depending on where you are, how far you are going to drive (most come with a set km limit per day, which you can extend by paying more), where you are going to drop the car, if you want insurance, type of vehicle (4x4s are more), and what company you go with. I went with SIXT in Jizan and Budget in Jeddah and Qassim. I mapped out my route ahead of time, made sure I was going to be within the km limit, and determined what kind of vehicle I would need. If you are going to drive in the south, I highly recommend something with power to get up and down the steep inclines and switchbacks. I messed up on my calculations in Jizan but was not fined for the kms. I paid an extra SR180 for my car in Qassim because I wanted to drop it off in Riyadh, but they included the extra kms for free. I found the whole process very easy each time. Booking ahead is recommended, but you can also just walk up to the rental car booth and get a car on the fly.
Female Driving:
Women are allowed to drive and rent cars in Saudi Arabia.
The Road:
I heard horror stories about drivers in Saudi Arabia, but I didn't find them to be any crazier than anywhere else I've driven. The cities can be chaotic, but it is easy driving once you are out on the open road. Sometimes a two-lane road will turn into a three or four lane road as drivers take to the shoulder to let others pass, but there are speed cameras and speed bumps everywhere, so the crazy drivers have been curbed a bit. Most of the highways are well maintained. Overall, it is a very easy country to drive.
Gas/Petrol:
Rental cars will not come with a full tank. Be sure to fill up when you can because there are long distances without a station. Most stations accept credit cards and will pump for you. I found a lot of stations in the south were closed on Friday. A lot of stations will not open until later in the afternoon on Fridays, so plan accordingly.
Domestic Flights:
I flew Saudia and FlyNas domestically and they both provided good experiences. I showed up to the airport 50 minutes before my first flight and still made it on time. I never paid extra for carry-on, yet always carried on a medium-sized backpack and a small roller bag. Security is a breeze. I never had to remove anything from my bags. I booked all flights online between 24-48 before takeoff. All flights ran on time. Average flight price was around SR225.
Tour:
If you don't want to drive or fly in Saudi Arabia, you'll probably need to book a tour.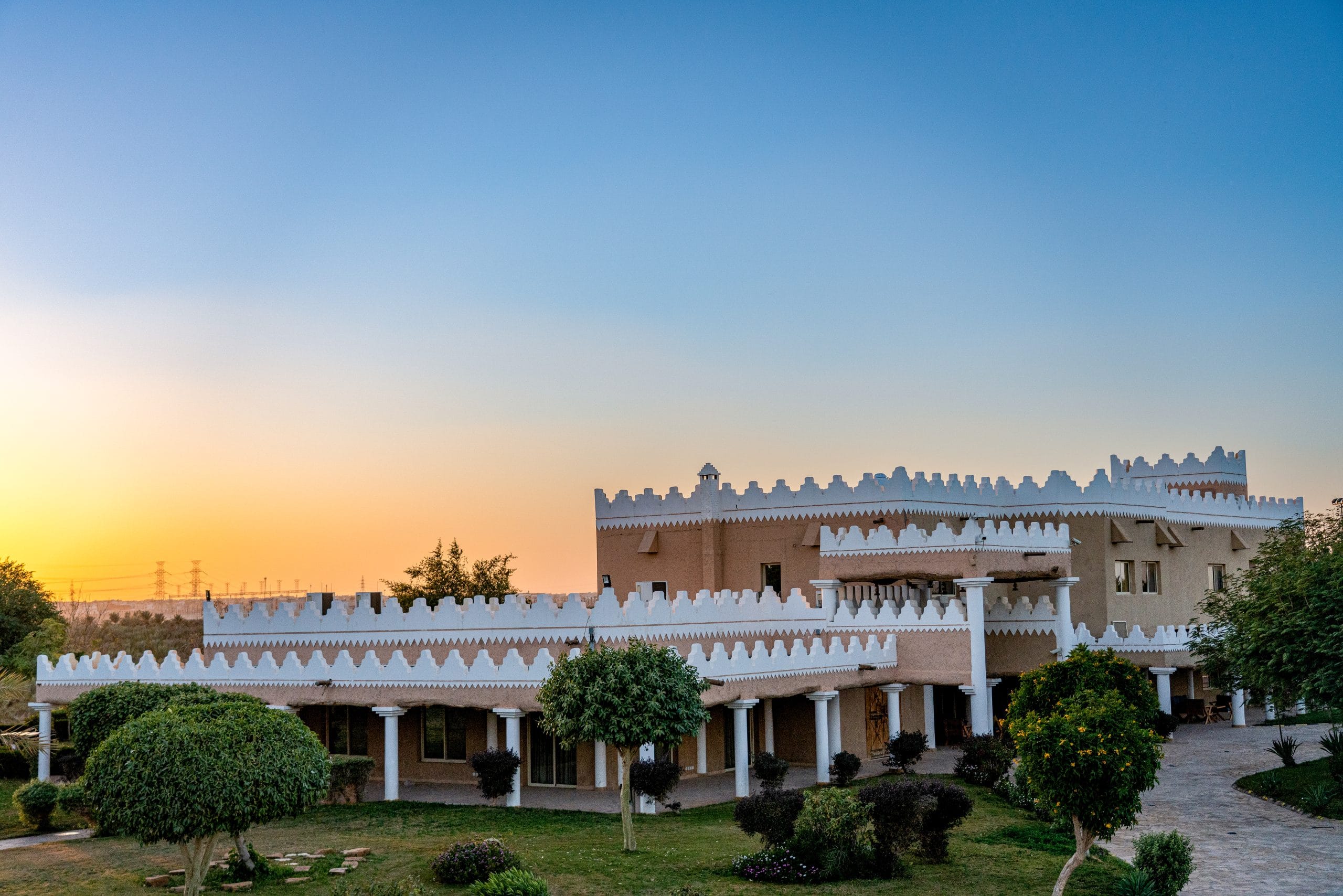 I can only speak to the places I stayed or visited, so this is not an exhaustive guide to lodging in Saudi Arabia. Lodging can be found easily, even last minute for most places. I never had a hard time finding a place the day of arrival. Usually I prefer Airbnbs to hotels, but the amount of decent Airbnbs is quite lacking right now. There are many apartment style hotels though. I chose my hotels based on my ability work from them (fast Wi-Fi, etc.).
Unmarried couples CAN stay in hotel rooms together. A few people I traveled with did this.
Four Points by Sheridan Riyadh
I picked this hotel because I had Marriott points to burn, and it was only 10,000 points a night. Very comfortable spot walking distance from everything in the old town. Fast Wi-Fi in the rooms. Friendly staff and decent breakfast. I had to extend my stay here due to dealing with the Tawakkalna app debacle and they were very accommodating. I extended day by day with no prior notice and there were no issues.
Very nice hotel with free parking and good breakfast and fast Wi-Fi. I only stayed here because I arrived at night and was flying out to The Empty Quarter the next morning. I used Marriott points here as well. I left most of my stuff at the hotel for a few days while camping in The Empty Quarter. When I returned from camping, they gave me a conference room to get changed, cleaned up, and organize my luggage before my flight home.
Another Marriott property that accepted points for my stay. Nice hotel connected to the Al Rashid Mall.  The mall was packed. It was a fun place to people watch. The hotel offered free parking and fast Wi-Fi. They also had an indoor pool.
I chose this property because it was the first hotel I saw when I arrived in Najran, and I was exhausted. The staff were extremely friendly. The rooms were decent. I do feel like there were probably less expensive properties in better locations (this was a nice and safe location, but a little far from anything to see).
This boutique hotel was beautiful. It had so many unique touches and design ideas. Breakfast was decent and it was walking distance from the corniche. I stayed here as part of an expedition I was on. It was pricey for the area, so I stayed in a cheaper place right next door when I came back to Jeddah on my own.
This hotel was just a couple hundred meters down from the Shada. It didn't have all the unique touches the Shada provided, but it was just as comfortable and was about half the price. The staff were very helpful as well.
Yanbu
I honestly don't remember the name of the hotel I stayed at in Yanbu, so I guess it wasn't memorable. My advice would be to stay as close to the old town as possible and to not spend more than one night there unless you are diving every day.
Al'-Ula
Unless you want to fork out a lot of money for one of the up-and-coming resorts in Al-'Ula, I recommend camping or a farm stay. I was with a group in Al-'Ula and we stayed in trailers on a citrus farm. The trailers were heated and had bathrooms and were very comfortable. The owners gave the group a tour of the farm and cooked us a whole goat in the ground for 24 hours. It was a very cool experience.
New boutique hotel with a cool design and pool table in the lobby. The reception people have a lot to learn, but the beds were very comfortable, and the place was extremely clean. Best breakfast of all the hotels I stayed at.
The Al Malfa Resort used to be a private residence and is surrounded by date palms. It's in the middle of nowhere, about a half hour from Prince Naif bin Abdulaziz International Airport. It's also about a half hour from the largest camel market in the world, on the outskirts of Buraydah. The rooms and food are nothing special, but it is a great property if you're looking for some peace and quiet. After weeks on the go, it was the perfect place for a couple days of downtime. It helped that I was the only guest in the entire place.
The Empty Quarter
The Empty Quarter is all about camping, preferably outside under billions of stars.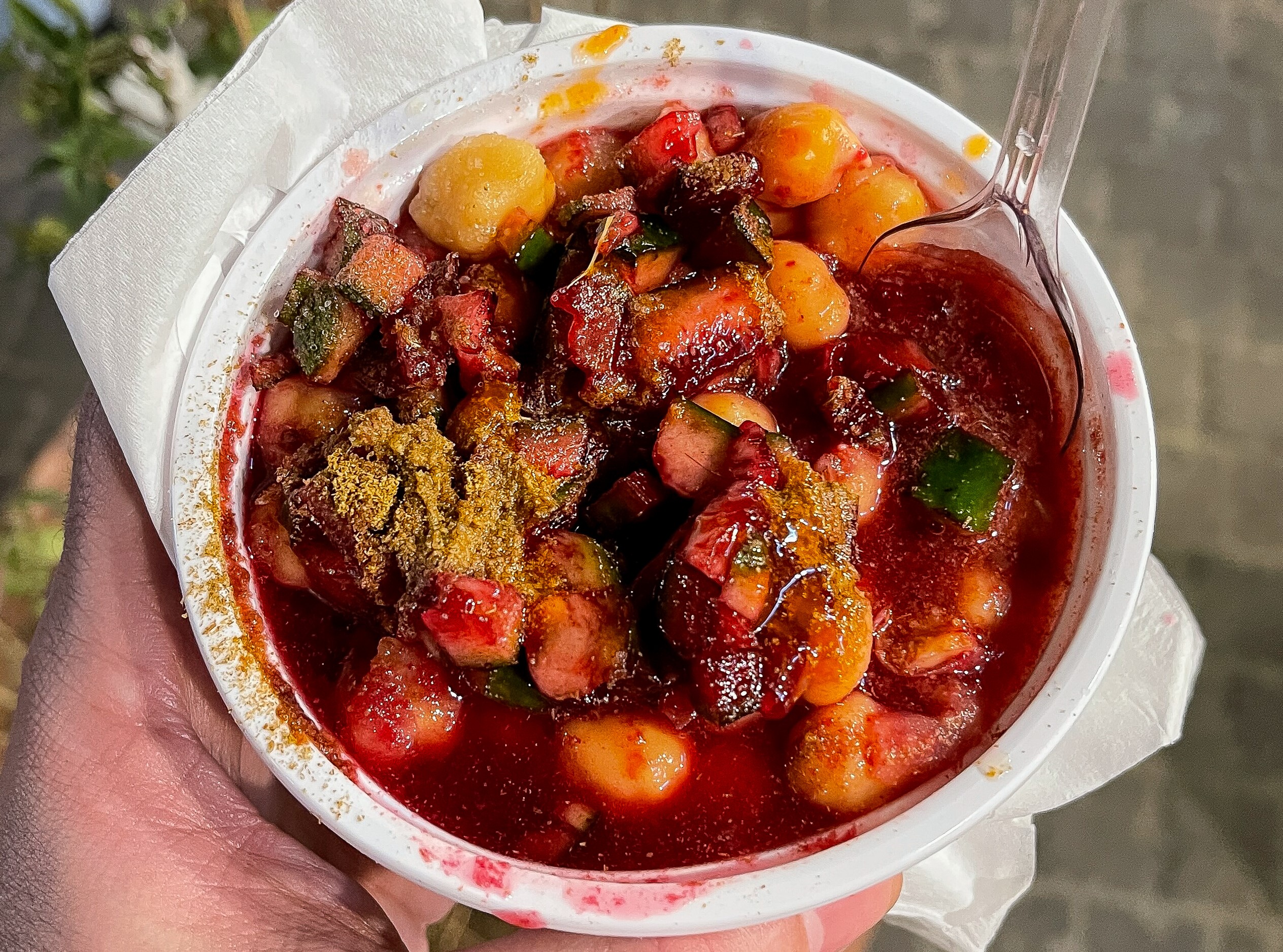 Unlike most places I've traveled in the Middle East, Saudi Arabia cities are full of American-style fast food franchises. McDonalds, KFC, Starbucks, Burger King, Hardy's…they are everywhere. Then you have all the falafel and shawarma joints as well. Motorbikes zip along everywhere, delivering this fast food to people's homes. That's not to say you can't find more authentic food though. It just takes some time and effort. I traveled with a couple vegetarians for part of my trip, and they survived, although I wouldn't say they ate well. Again, this is not a compressive guide to Saudi cuisine, it is just a list of some of the unique things I tried while in the Kingdom.
Al-Baik
Saudi's own fast food chicken joint. This franchise offers cheap chicken to the masses. There is always a line, so I had to check it out. It was decent. Better than KFC, but not as good as real fried chicken.
Arabic Chicken Stew
I ate a lot of this while out in The Empty Quarter. Just a simple stew with chicken and veggies, but it had great flavor.
Arabic Coffee
Coffee is even more popular than tea in Saudi Arabia, but it's not the type of coffee most Westerns are used to. Yellow in color, due to the light roasting method, and extremely bitter in taste, it is not going to be for everyone. I'm not a big coffee drinker, but I enjoyed a small cup almost every day. I liked the spice, but wasn't crazy about how it made my mouth feel a bit numb.
Bailia
This was the biggest surprise. A hot street-snack of chickpeas, beets, pickled cucumbers, and spices. It's not pretty, but it's an amazing mix of sweet, savory, and spicy. I only found this in Jeddah and Yanbu, so I think it's a coastal thing.
Camel Milk
If you happen upon a camel farm, you might be offered fresh camel's milk. I declined the offer because I'm not a big milk person (especially warm milk straight from the source), but I'm sure it is a unique experience.
Dates
Dates of all kinds can be found in Saudi Arabia. I don't know the difference between them all, but some of them were above and beyond any dates I'd ever had before. If you're offered dates, try them. It might take a few times to get the best, but you'll know them when you taste them.
Ferek
Brown bread mashed up with sugar and spices. Great flavor, but very dry. I ate it with a little leben (fermented milk) to add a some moisture.
Hummus
Hummus here is like hummus anywhere else, but I did find a green hummus that had basil added and it was amazing!
Jareesh
A porridge type dish made with boiled wheat and seasonings. Sometimes it comes with meat, but when I ordered "white jareesh" it did not. A very simple dish, but it is tasty and filling. A good option if you are in an expensive restaurant and on a budget.
Kabsa
Huge plates of rice, with meat and veggies on top. This was the most common meal I experienced in Saudi Arabia. Sometimes it was chicken, sometimes lamb, and one night it was an entire goat that had been roasted in the ground all day. The quality of this dish varies, but no matter how good it tasted at times, I was over it by the time I left the Kingdom.
Khubz
A wheat flour-based flatbread that is served with most meals. Very good when it's fresh.
Ma'amoul
Flour-based cookies stuffed with dates and sprinkled with powered sugar. Addicting.
Murtabak
Fried pancakes with ground meat and vegetable. One of the many small plates that will be piled on the table at any restaurant.
Seafood
One of the best meals I had was in Yanbu. Seafood chowder, fried fish, grilled fish, fish cakes, etc.
Tea
Tea is enjoyed by Saudis any time of day. You will be offered tea (and coffee) everywhere you go. Usually black tea, served in a glass.
Za'atar
Named after the spice blend on top, this is flatbread with sumac, thyme, and sesame seeds. I had it with breakfast quite a few times.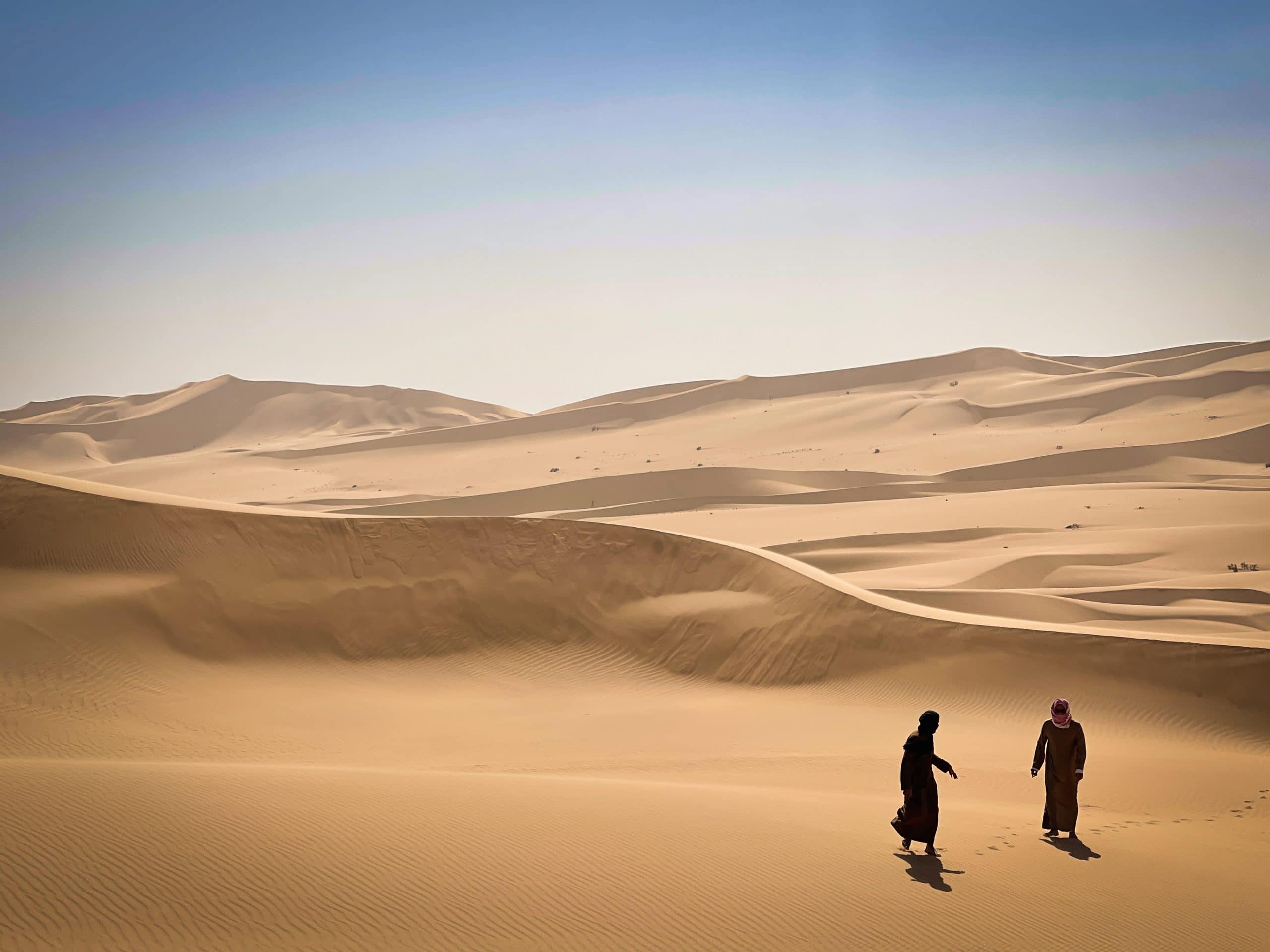 DESTINATIONS & HIGHLIGHTS
Saudi Arabia is a very large country. Many of the interesting places are far from each other. To really experience the country, you will need a lot of time, be open to taking domestic flights, or just focus on a few areas. I spent 3 weeks and could have easily used another week or two. I visited 8 of the 13 provinces and 7 of the 9 main regions. I could have spent less time in some places (Riyadh) and I would have liked to have had more time on others (The South), but I feel like I experienced quite a bit in my 3 weeks.
My expectations were almost non-existent going into the Kingdom. To be honest, when I thought about Saudi Arabia, I thought about deserts. I found it has so much more to offer.
My path was scattered, and I will probably change it up next time, but I started in Riyadh, then flew to Jizan and rented a 4×4 and drove along the Yemen border to Faifa, then on to Najran, then to Abha, and then back to Jizan. After that, I flew to Jeddah to meet up with a friend who was leading a group expedition. The expedition took us from Jeddah to Medina to Yanbu to Al'-Ula to Wadi Disah to Tabuk and the surrounding areas near the Jordan border. Then I flew back to Jeddah for a few days. Back on my own, I flew to Qassim, where I rented a car and explored the area before driving back to Riyadh. Then I flew to Wadi ad-Dawasir to join a camping expedition into The Empty Quarter (Rub' al Khali). I came back to Riyadh from the desert overland and departed from there.
These are my Top 10 Highlights of Saudi Arabia.
#1 The Empty Quarter (Rub' al Khali)
The Empty Quarter is not a place you can visit on your own. There are no roads or cell service. You visit with an experienced guide like Meteb and his crew at Amazing Tours. They have tricked-out Land Cruisers with a huge supply of water (via a facet near the rear tire), winches, air compressors, satellite phones, and a thousand liters of fuel. They don't use GPS though. They have it in case they get into trouble, but they like to hone their skills with manual navigation.
It seemed like we were driving aimlessly around The Empty Quarter most of the time. The terrain was an optical illusion. We'd be speeding at 140km an hour on what looked like flat terrain and all the sudden the vehicle ahead or behind us would disappear, and then we'd be climbing and sliding down a giant dune. It was like skiing with bad goggles; there was no depth perception. I was expecting an adventure, but I wasn't expecting a full two day adrenaline rush.
We were offered tents each night, but I decided to sleep outside. There was only a sliver of a moon and billions of stars. They were above me and on both sides of me to the horizon.
Read my personal blog for more stories and photos from this amazing adventure.
#2 The People
Most of the people I interacted with in Saudi Arabia were happy to see foreigners. They were always interested in where I came from, why I was there, and what I did back home. I was lucky enough to meet locals from all walks of life; upper middle-class people in the tourism industry, local farmers in the north, Bedouins in the desert, and everyone in between.
People in the south were very welcoming, if a little confused by my presence. A guy in a roadside convenience store offered me free popcorn as he quizzed me about what I do for a living. A man let me into the Al-Aan Palace when I knocked on the gate. He gave me a quick tour before he had to go pray. The various hotel staff fell over themselves to show me to my room and help with my bags and assist with anything I could possibly think of.
I had lunch one day in a very nice restaurant overlooking the Jeddah corniche, with my friend who makes a living blogging about off the beaten path destinations, a couple who plan trips abroad for affluent Saudis, and an archeologist/travel coordinator. We sat around eating and smoking sheesha and talking about the future of the Kingdom. We were the only ones in the restaurant. It could have been a Bourdain episode.
Read my personal blog for more stories about the people of Saudi Arabia.
#3 Al Qassim Camel Market
The largest camel market in the world must be experienced at sunrise. Situated on the outskirts of Buraydah, the market is an amazing cultural experience. I went too late on my first try and things were winding down, but I set out in the dark on the second day and arrived right in the middle of the action.
It was freezing outside, but so worth it. It was chaos in the best way.
I was the only foreigner there and no one paid me any mind. I was walking around in the mud, with my camera and GoPro out, and no one even noticed. They were much too busy chasing and haggling over camels, then having those camels craned into the beds of pickup trucks.
Read my personal blog for more stories and photos from this market.
#4 Wadi Al Disah
This mountainous region and oasis between Al-'Ula and Tabuk was an absolute surprise. Honestly, I didn't have high expectations, but it ended up being one of the best days of the expedition. Just rolling through incredible scenery in 4x4s and stopping for some short hikes; it was one of those places I would have never been able to experience if I was traveling solo. We had a great lunch at a beautiful Bedouin farm with camels and goats before heading out and up to Tabuk.
There are 4×4 "taxis" near the entrance and exit that can take you into the area for the day but I did not get their prices. I wouldn't try to drive in yourself unless you have a 4×4 and know the area very well.
Read my personal blog for more stories and photos from this area.
#5 The South (Road Trip)
I booked a flight to Jizan on Saudia, rented a car in the airport from SIXT, and set off on a solo road trip along the Yemen border from Jizan to Faifa, on to Najran, then up through Abha, and back down to Jizan.
The drive was amazing. The road running along the Yemen border transitions between desert, green misty mountains with monkeys everywhere, mud villages, insane switchbacks, red sand desert, black fields of lava rock, camel crossings, goat gatherings, etc. I have never been to Yemen, but the architecture in this region looks like the photos I've seen from that Republic to the south.
Driving was a breeze in a 4×4, but I would not have wanted to tackle those steep roads in a less powerful vehicle. Saudis have been notoriously crazy drivers, but the speed bumps and cameras have calmed things down a bit. The only issue I had was my GPS map spun like it was on crack, making it difficult to follow along.
There were various checkpoints, but I was waved through all but one; where some young soldiers decided to mess with me by claiming my documents were no good and that they were going to have to arrest me. They told me this with hand signals and gestures because they didn't really speak English. I was nervous until they handed my passport back, started laughing, and told me to "Have nice day!"
Read my personal blog for more stories and photos from this drive.
#6 Al-Balad, Jeddah
By far the most well-preserved old town in Saudi Arabia. So many of the old towns are under construction and in the process of being modernized, while Al-Balad is perfectly restored in a way that maintains what it used to be. We were there when early evening turned to night. There were many locals out and about. Old men playing dominos and drinking tea, families strolling around, women painting on the street, and young people flirting in the corners. As the sun set, the lights came on and added to the beauty of the old buildings. It really is a unique place.
Read my personal blog for more stories and photos of Jeddah.
#7 Rea Sea Diving (Yanbu)
We took a couple boats out from Yanbu to Al Bareedi island the next day. I had a moment of euphoria on the boat. Something about racing across the sea with the sun on my head and droplets of water splashing up from below. The island was beautiful, with white sand beaches and crystal-clear water, with an apocalyptic abandoned oil refinery in the background.
We took one of the boats out to a reef not far from the island. It was a shallow dive, but visibility was amazing. I followed a sea turtle for awhile and saw some smaller life, but the coral itself was the highlight. When I go back to Saudi Arabia, I will dedicate more time to diving.
Read my personal blog for more stories and photos from this vacation within a trip.
#8 Mada'in Saleh (Hegra)
Hegra (Mada'in Salih) is an archeological site in Al-'Ula. It is the remains of a Nabatean city from about 2000-2500 years ago. These were the same people who built Petra.
Just a few years ago you could have wandered around these sites, camping wherever you wanted, but now that the Kingdom is opening to tourism, they understand the potential of this area and are putting infrastructure in place to cater to high-end tourists.
I think Petra is the more impressive site, but it was still fun riding around in open air Land Cruisers and checking out insanely old stuff carved into insanely huge rocks.
This site requires reservations, and the bus schedule can change without notice. Al-'Ula has their own tourism commission that does not communicate with the rest of the country very well.
Read my personal blog for more stories and photos from this site.
#9 Medina
The city of Medina has always been open to non-Muslims (unlike the city of Mecca), but I was surprised we were able to enter the haram area without any issue. It is a regular city. The draw is Al-Masjid an-Nabawi (The Prophet's Mosque); the second largest mosque in the world. Built by the prophet Muhammad in the first year of the Islamic calendar (622 CE), after the migration from Mecca to Medina (called Yathrib at the time), the mosque is the second holiest place in Islam and serves as Muhammad's final resting place.
Read my personal blog for more stories and photos from Medina.
#10 Ushaiquer Heritage Village
I drove from Unayzah to Riyadh, with stops in Al-Ghat (viewpoint and mud village), Ushaiqer Heritage Village (lots of local families and nice old women giving me short tours of all the buildings), and a drive by Diriyah (but didn't stop because it's closed for renovation). The entire drive took about 6 ½ hours and there wasn't a lot to see, but it was cool to be off the lightly beaten path.
Ushaiqer Heritage Village was just a random stop, but there were a lot of families and very friendly locals there and it just stuck with me as a highlight of the trip.
Read my personal blog for more stories and photos from this drive and village.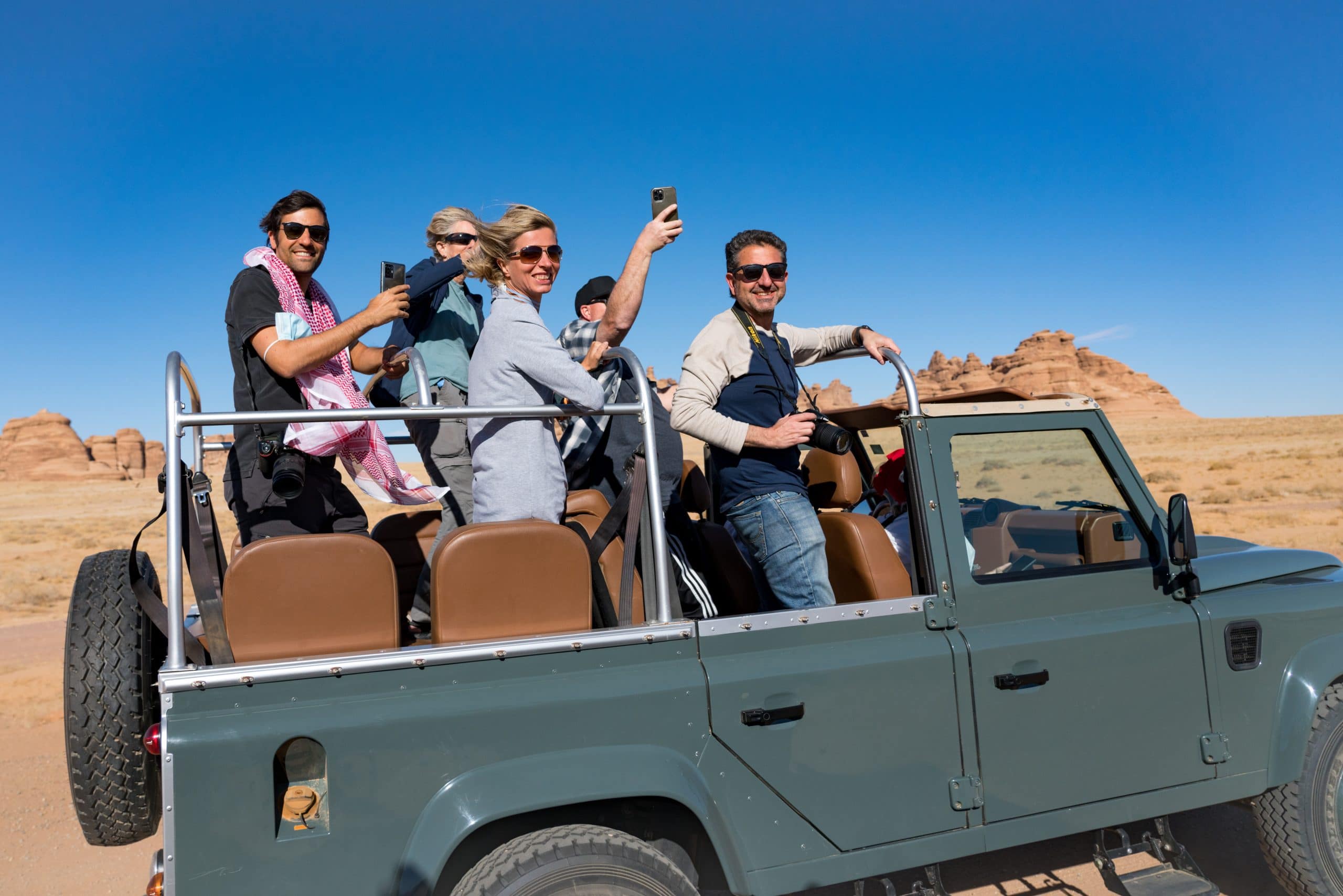 A quick Google search will provide you with a plethora of tour options for Saudi Arabia, ranging from mid-tier to high-end. Many of these tours are run by international companies. I cannot speak to those, but someone I met had a good experience with Wild Frontiers. I don't have personal experience with them.
These are the local people and organizations I used or had direct interaction with. If you are looking for something these people don't offer, they can always point you in the right direction. Consider them trusted sources.
I had an amazing experience with Sara and Abdullah from 88 Destinations. I did not book a tour directly through them, but they coordinated an expedition led by my friend Joan. Sara was with us most of the expedition and she has all the connections you would ever need in the Kingdom. Sara and her guides were able to get us access to places we would have never been able to get on our own. I would also like to call out both Sara and Abdullah for always being available via WhatsApp, even before I was on the expedition, to help with small issues I ran into from time to time.
Joan Torres is a travel blogger from Spain who leads expeditions to off the beaten path countries. He has traveled extensively in the Middle East and always works with the best people in each country/region. I first met Joan in Kurdistan and then traveled with him in Afghanistan. His expeditions are a mixture of the main sights and immersion into local culture. I highly recommend joining one of his upcoming expeditions.
The company name is generic, but there is nothing ordinary about Meteb and his crew's expeditions into The Empty Quarter. They have tricked-out Land Cruisers with a huge supply of water, winches, air compressors, satellite phones, and a thousand liters of fuel. They don't use GPS though. They have it in case they get into trouble, but they like to hone their skills with manual navigation. Meteb and his guys are masters of the desert and spending a few days with them, and sleeping under the stars, was the highlight of my Saudi experience. The Empty Quarter tours run every weekend, except for summer when the heat is unbearable.
Ahmed
If you are in Riyadh and want to explore outside the city, shoot Ahmed a message via WhatsApp at +966 55 545 2982. He can bring you out to the Edge of the World, a remote Red Sand location for the sunset, mud villages, etc. Extremely nice guy. He speaks enough English to get by and offers reasonable rates and is always on time (something rare in Saudi Arabia).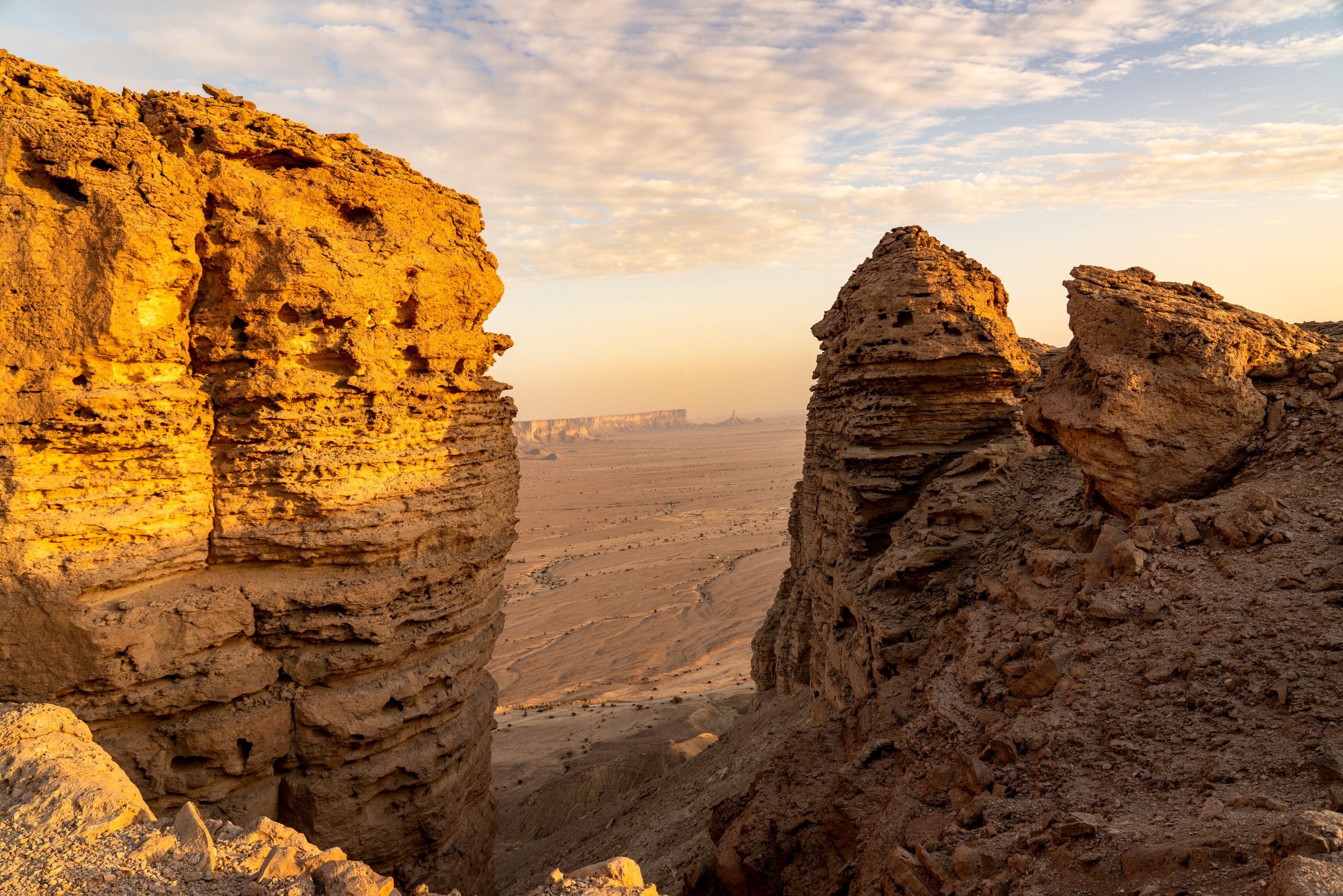 Is Saudi Arabia a safe country? Isn't it dangerous to go there? These are always the first questions I am asked. The answer is Saudi Arabia is as safe as the United States and most European countries; meaning it is a safe place to visit if you don't purposely put yourself into a dangerous situation. This isn't a country where you want to get arrested or piss off the government, so be respectful of the culture and the laws and you will be fine.
Female Travel
I am a man with a beard, so I am the last person to speak about the safety of female travelers in Saudi Arabia, but I can promise there are no rules stopping woman from solo travel in Saudi Arabia. Woman can rent cars and drive, they can book hotel rooms, they can move around freely without a guardian. When it comes to dress, you will want to respect the local culture (especially in mosques), but you will not have to completely cover up. The girls I traveled with for a short time wore regular Western travel clothes (and even bikinis when we went out on the Red Sea); they just covered their head and shoulders when entering religious areas.
Cities
I felt safe in every major city in Saudi Arabia. I walked around by myself during the day and night, took Ubers and taxis all over, and I never felt unsafe. The most dangerous thing about walking in the cities is that the sidewalks end and you can find yourself in the middle of an intersection. It is best to get a ride to an area, then walk that area before getting a ride to the next area.
Unlike many Middle Eastern cities, you will not be hassled by vendors or people on the street. I was asked for money a total of one time my entire stay in the Kingdom.
Driving
Saudi Arabia has a reputation for crazy drivers, and while city driving can be a pain if you don't know what you're doing, I did not find it any crazier than any other Middle Eastern country. There are many speed bumps and cameras on the highways, so it is best to keep to a reasonable speed and get over if a car wants to pass. Sometimes a two-lane road will turn into a three or four lane road as drivers drive the shoulder to let others pass.
There are various checkpoints in the south along the border with Yemen, but I was waved through all but one; where some young soldiers decided to mess with me by telling me my documents were no good and they were going to have to arrest me. They told me this with hand signals and gestures because they didn't really speak English. I was nervous until they handed my passport back, started laughing, and told me to "Have nice day!"
Desert
The desert, especially The Empty Quarter, can be extremely dangerous if you don't employ a professional to guide you. Do not go too far into the desert without supplies and a guide.
The same goes for the Edge of the World. Some Italian tourists recently drove a pickup truck off it, resulting in 9 casualties
Crime
The crime rate in Saudi Arabia is low because the punishments are severe. Shari'ah law is a foreign concept for those of us in the West, but it does discourage crime. I had no problems while I was there.
War & Terrorism
Saudi Arabia and Iran have been fighting a proxy war in Yemen for the past seven years and there is always a risk of Iran-backed Houthi drone attacks in the south. I didn't feel any sense of danger during my time down there, but there was a heavy patrol presence and miles of barbed wire fence along the border.
Evidently, the Saudis launched the heaviest air raid in more than two years against Sana'a while I was just 65 miles away as the crow flies. The strike was in response to a Houthi attack on a target in the UAE. A couple days later, while I was in Jizan, another strike killed 70+ people and knocked out internet for the entire country of Yemen.
Please check the security situation and visit this region at your own risk.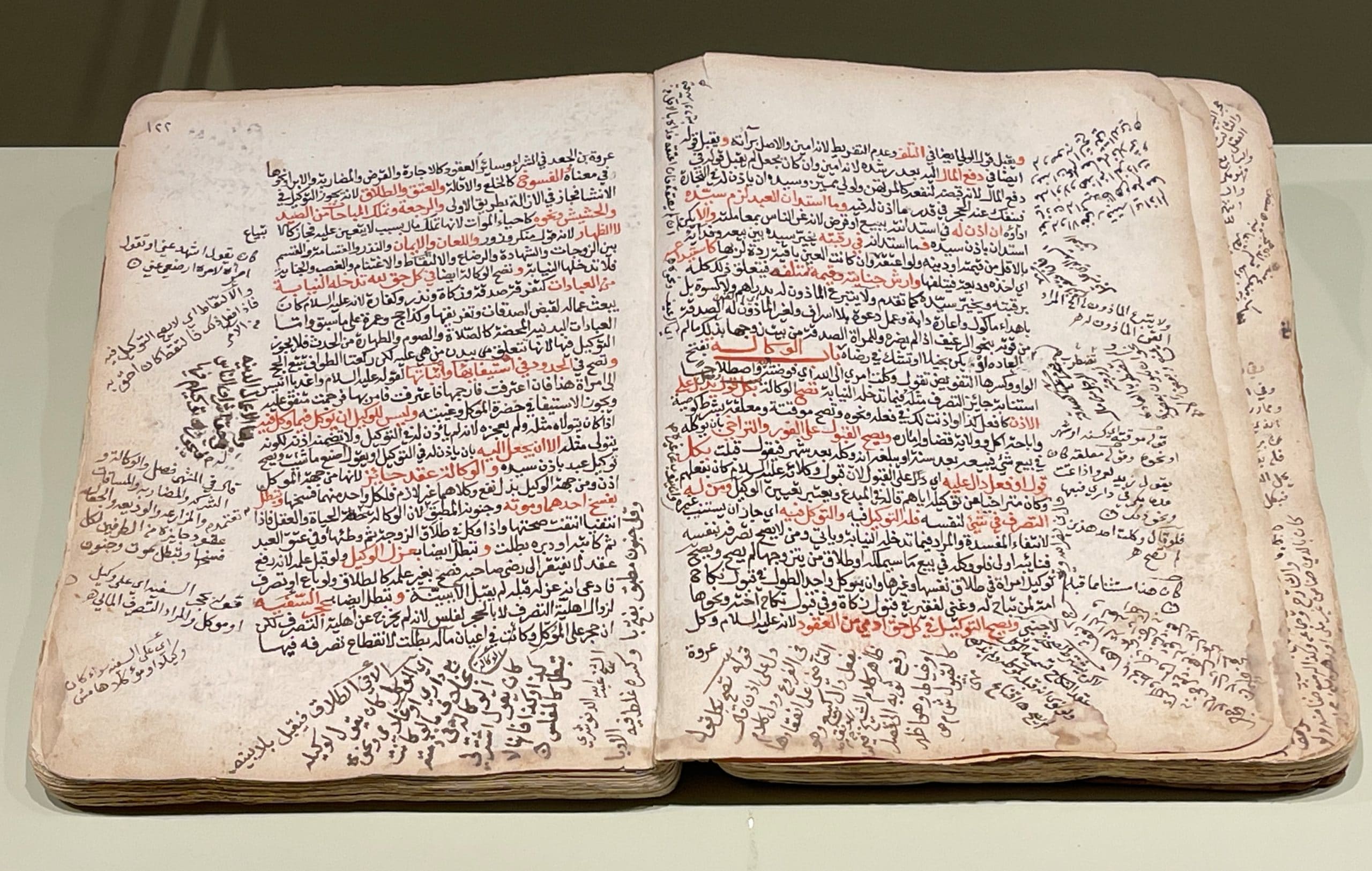 By no means an exhaustive bibliography of Saudi history, literature, and film, this is just a list of what I read, listened to, and watched before I traveled to the Kingdom.
Bitter Rivals: Iran and Saudi Arabia
Very informative documentary covering the history of Saudi Arabia and Iran, including many interviews with credible sources from political, religious, and military backgrounds. The focus is on the two big powers in the Middle East, but it also covers the entire region from the 1970's to present day.
The Crown Prince of Saudi Arabia
This two-hour Frontline documentary covers the rise of Mohammed bin Salman (MBS). There is a focus on the Jamal Khashoggi murder, but it goes beyond that to examine the young prince's vision for the future of the Kingdom.
Daring to Drive by Manal al-Sharif
One woman's heroic journey to normalize female driving in Saudi Arabia.
Ibn Saud by Michael Darlow and Barbara Bray
The ultimate history of the founder and the founding of the current Kingdom of Saudi Arabia.
A deep dive into the upbringing, personality, politics, and vision of the young crown prince; the first of his generation to rule the Kingdom.
The story of a young female doctor who runs for office in her local city elections, on a campaign to pave the road to the hospital. It felt a little too safe, and almost like a made for TV movie, but it was cool to see something filmed in modern-day KSA.
It is almost impossible to understand the people and culture of Saudi Arabia without an understanding of The Qur'an. I listened to an English translation by M.A.S. Abdel Haleem.
This does not represent the Saudi Arabia I visited. This documentary is only seven years old but is already so out of date. The only reason I list it here is because it does show how much has changed in such a short period of time.
Extremely basic documentary covering an extremely important turning point in Saudi history.
The story of a young Bedouin boy in the Ottoman province of Hijaz during WWI. It's a coming-of-age drama and a good look at the area before the current Kingdom existed.
The simple story of a young girl living in Riyadh who doesn't understand why she can't do the same things as her friend, just because she is a girl. Impressive acting and even more important because it was the first feature film made in Saudi Arabia, and it was made by a female director.