Stories from Saudi Arabia 2022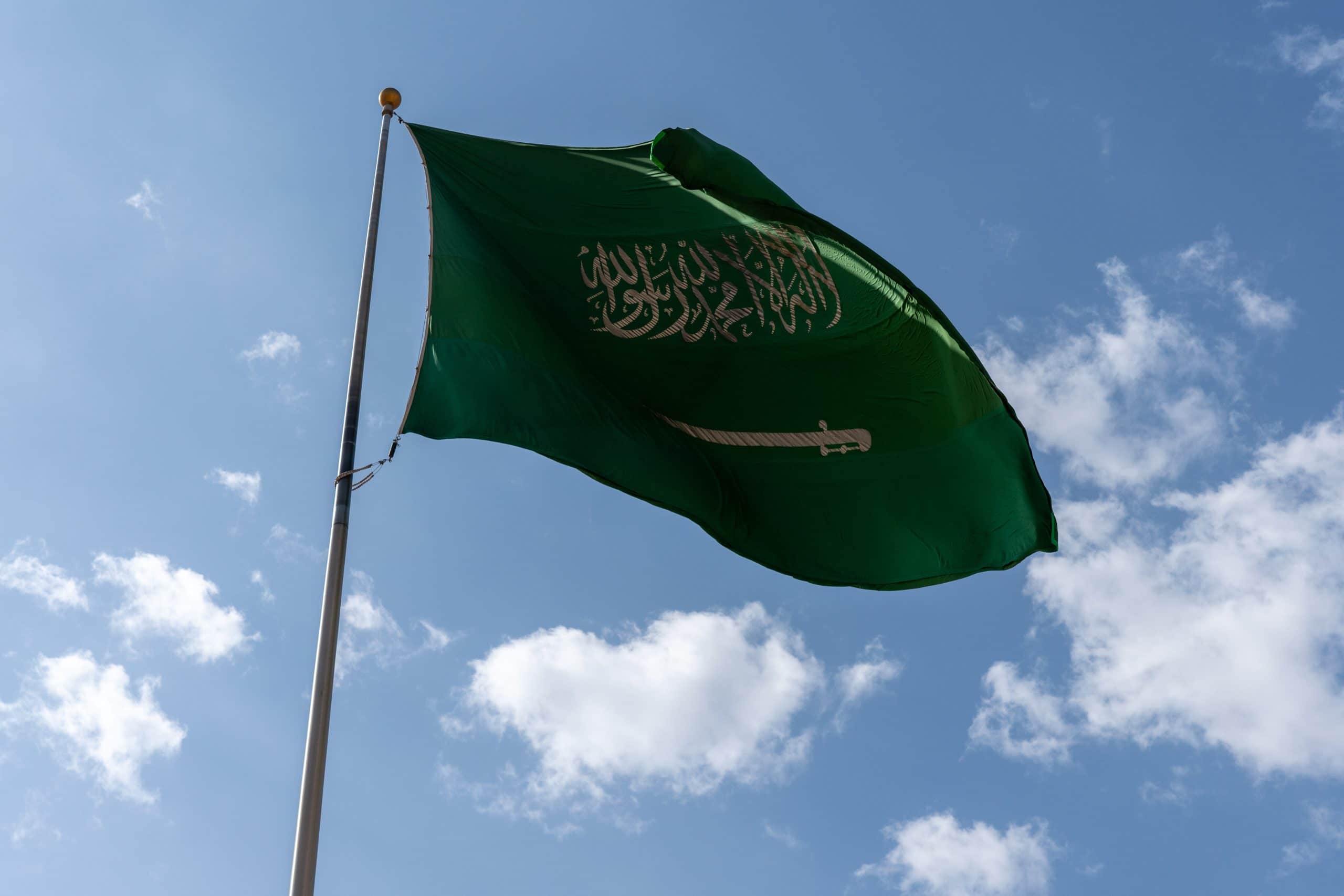 Bureaucracy, Hospitality, and Sand: Traveling in a Newly "Open" Absolute Monarchy During a Pandemic
The runway was wet, and everything hid behind an orange glow from the blurred window of the A330 aircraft as we taxied in. I was coming in blind with no real expectations.
A delayed overseas flight, a near miss connection in Germany, 20+ hours behind a mask, a couple hours sleep, and a stack of documentation in hand (the visa being the simplest to receive and understand), I was taken aback by the bright light of the intricately designed Terminal 1 at King Khalid International Airport; complete with a large fountain, arching ceilings, and men in white and women in black guiding us to the correct line for processing. Residents this way, business visitors that way, tourists come with us.
Situated less than an hour north of Riyadh, the capital of The Kingdom of Saudi Arabia, RUH is one of the entry points for tourists who are not only now allowed, but "invited" to enter the historically sealed off and secretive Kingdom.
After some photos and fingerprinting, I was in an Uber heading to my hotel near the old town.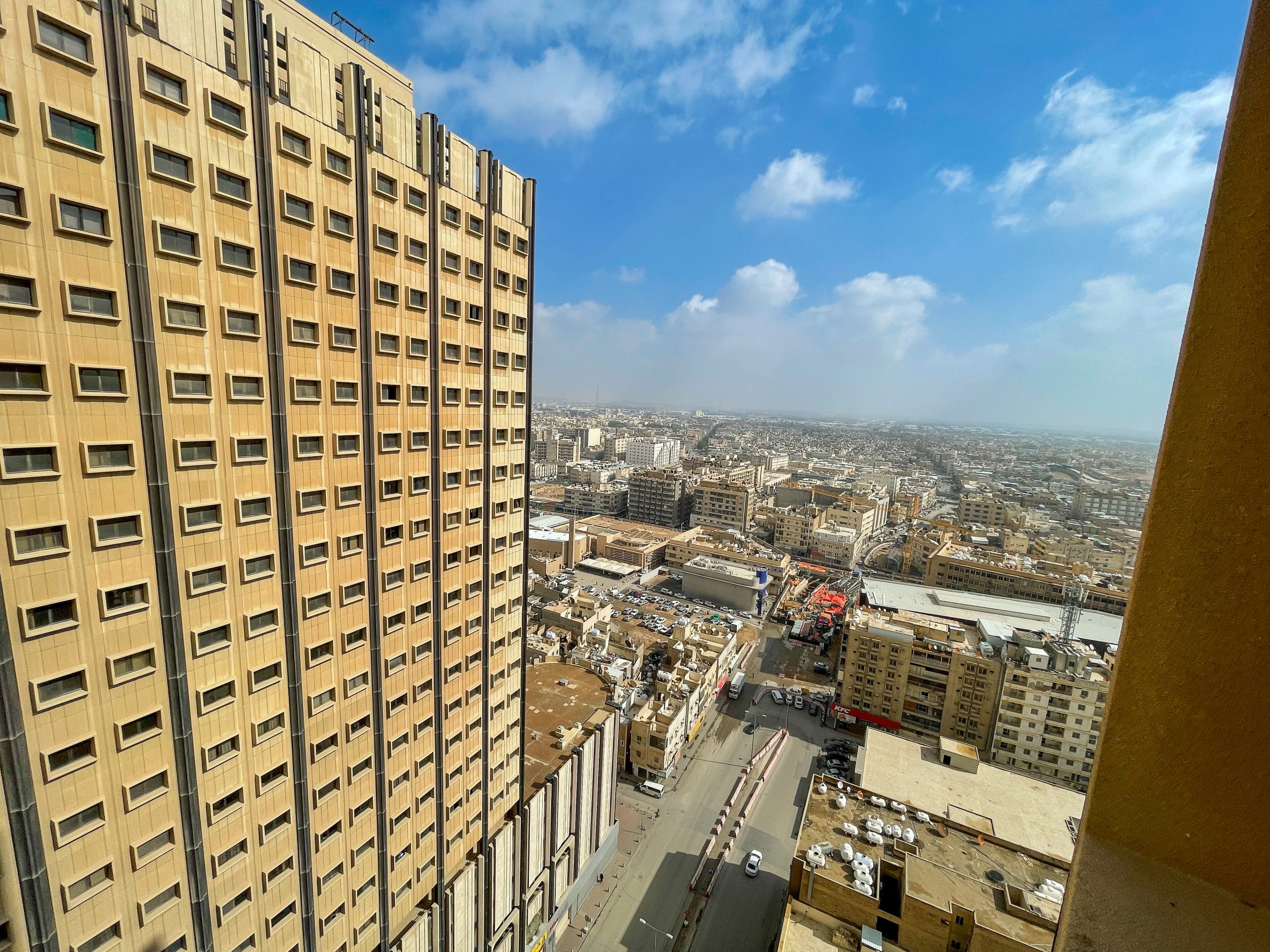 Saudi Arabia has been one of the least friendly countries when it comes to tourism, but a new evisa program, introduced a few years ago and then put on pause due to COVID, allows multiple entry for a year and can be obtained online in less than 15 minutes. The caveat is you need to fill out a lot of COVID-related forms. The information in those forms feeds into an app called Tawakkalna. The app provides a barcode to be shown whenever entering a building or site in the Kingdom. If it's green, you're good. Mine was purple.
According to Tawakkalna, I was supposed to quarantine for 5 days and take 2 PCR tests. Evidently, another department called Muqeem did not register my vax info with the app. This is where the problems started.
The Tawakkalna people told me to call Muqeem. The Muqeem people told me to call the Ministry of Health. I called the MoH and listened to their anti-smoking message for an hour. The Ministry of Health told me to register with Absher. The Absher app told me I had to find a kiosk to register myself. But wasn't I supposed to stay in the hotel? "Oh yeah, better call the Ministry of Health then."
I went in circles for a good 24 hours. I was so close to leaving the country. I hadn't slept worth a shit and wanted an alcoholic drink and was done with the Kingdom. I had only been there a day.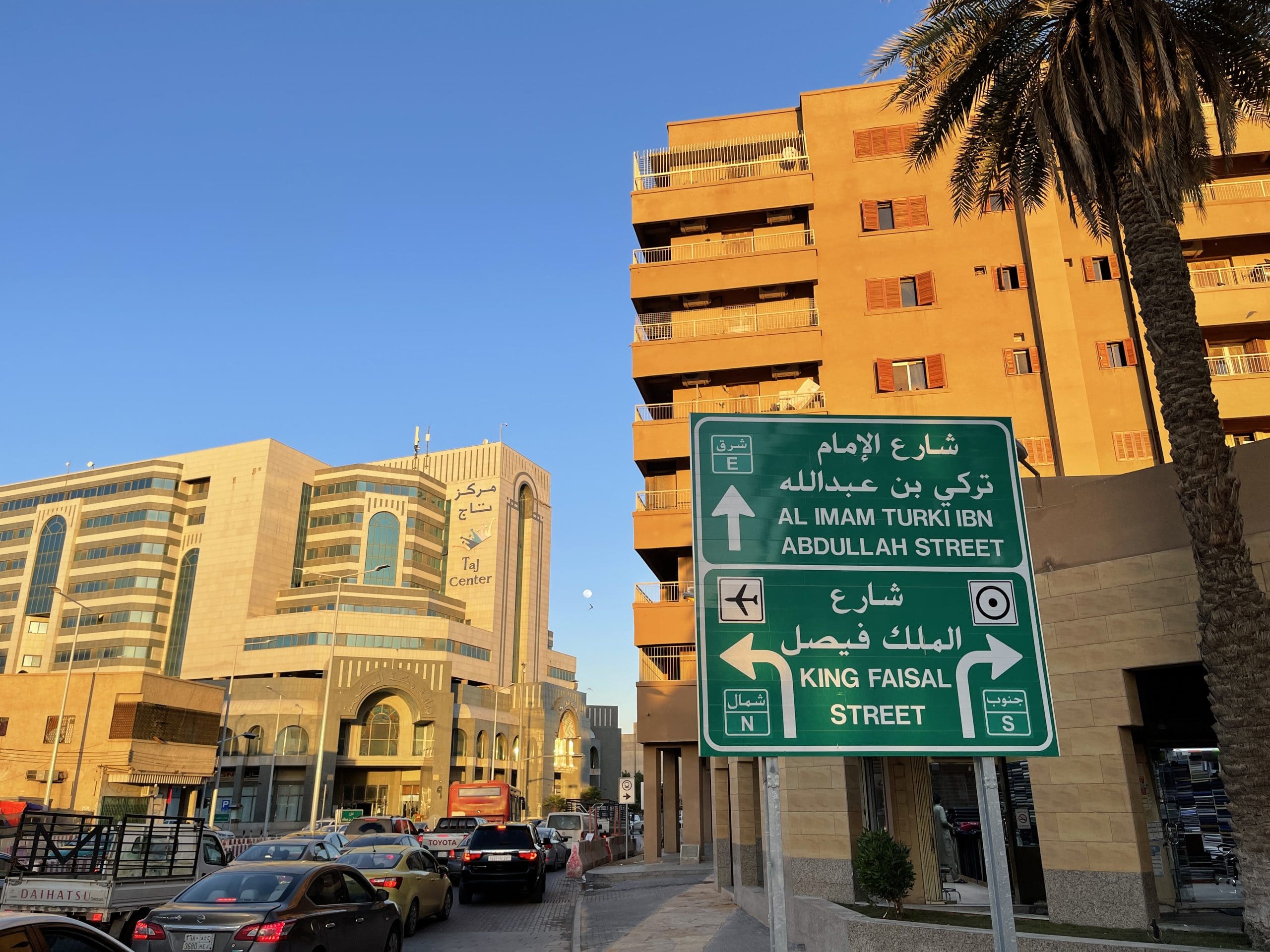 Then I was put in touch with a local woman who had the answer. "Here's what you're gonna do. Delete that app and play dumb when anyone asks for it."
I left the hotel and went to explore the city, by foot. Not the best idea. Sidewalks in Riyadh are a new thing, and they are not finished. You'll be walking along, minding your own business, and find your path has led into a major intersection. Riyadh is where the sidewalk ends.
I learned to rely on Uber to get from area to area.
I visited Al-Safaa Square (Chop Chop, where executions take place) and saw the blood drains had been transformed into fountains.
This is where I was told by a security guard the square wasn't open until 4:00pm…with no logical reason why.
I visited the Masmak Fort (where Ibn Saud fought the Battle of Riyadh against the Rassheds in 1902) only after walking around it multiple times trying to find an entrance, then sneaking through a government parking lot to find the nice guards very welcoming.
I went to the National Museum. Museums are not really my thing, but this one was pretty well done and was very clean and quiet compared to the frantic city outside.
I went up in Kingdom Tower, where no one asked me to buy a ticket until I got to the 50th floor. That's where the elevator operator asked me for one, offering to go buy one for me while I went to see the view from the 99th floor. He did just that and gave me the change when I was done.
Things don't always run smooth or make sense in the Kingdom, but most people are very helpful in steering you in the right direction, or trying to remedy a problem, as long as what you are trying to do falls in line with the defined set of rules.
I booked a driver to take me out to the Second Edge of the World (the first Edge was closed because some Italian tourists drove a pickup truck off it, resulting in 9 casualties).
The driver flaked on me when I was already outside the city at the rendezvous point but put me in touch with a guy named Ahmed.
Ahmed cancelled plans with his family to run me out there.
I saw the sunset and spread some of my dad's ashes before we had to rush back to the car because there were gunshots echoing through the desert. They weren't shooting at people, but it is a large open space, and we didn't want to catch a stray.
Ahmed was so nice I booked him to take me to a mud village and the Red Sands the next day.
We climbed around the ruins, drank Arabic coffee and tea, picked up a Bahraini girl who was teaching English in Riyadh, then went out to get lost in the Red Sand.
I worked from Riyadh at night and explored by day. I was able to sneak away a couple times to experience Nabd Al-Riyadh: a nightly live music and cultural event in the square. It was cool to see something that never would have been possible just a few years ago.
Having only planned on spending two days in the city, I ended up there much longer than expected because I was hesitant to try to fly without the app.
After 2 negative PCR tests, my app was green and I was ready to go!
I saw some cool stuff in and around Riyadh, but it ended up being my least favorite part of the Kingdom. The rest of the trip made up for the hassles I dealt with though.
Tourism in Saudi Arabia is in its infancy, but the country is on the cusp of becoming a destination, which makes it an exciting (if somewhat frustrating) time to visit. The Kingdom has so much to offer in terms of history, nature, and culture, and is marketing itself so aggressively, that it's hard to imagine how much things are going to change in the next five to ten years.
The country is huge, so you need a lot of time to see everything. Joining a tour is an option but can be expensive, especially if you're rolling solo. I considered hiring a 4×4 with a driver and guide for the south (near the Yemen border), but it was too expensive. The price would have been the same for me alone as it was for four people traveling together.
The good news is domestic flights, rental cars, and hotels can all be booked on the fly.
Instead of a tour, I booked a flight to Jizan on Saudia, rented a car in the airport from SIXT, and set off on a solo road trip along the Yemen border from Jizan to Faifa, on to Najran, then up through Abha, and back down to Jizan.
The drive was amazing. The road running along the Yemen border transitions between desert, green misty mountains with monkeys everywhere, mud villages, insane switchbacks, back to red sand desert, black fields of lava rock, camel crossings, goat gatherings, etc. I have never been to Yemen, but the architecture in this region looks like the photos I've seen from that Republic to the south.
This was my first time driving in the Middle East. There was a 500km cap on the rental contract, which I thought would be fine because I was thinking in miles instead of kilometers. I ended up doing 1000km but they didn't charge me extra, so it wasn't a problem. Gas was set at SR2.18 per liter (about $2.20USD per gallon), I ate cheap street and fast food, and even with staying at western style hotels, it was way cheaper than it would have been with a guide…and I had complete freedom.
Driving was a breeze in a 4×4, but I would not have wanted to tackle those steep roads in a less powerful vehicle. Saudis have been notoriously crazy drivers, but the speed bumps and cameras have calmed things down a bit. The only issue I had was my GPS map spun like it was on crack while in the south, making it a little difficult to follow along. I also had a scare when I couldn't find an open gas station on a Friday; a day I was going to be covering hundreds of kilometers through the mountains. I finally found one on the edge of town.
There were various checkpoints, but I was waved through all but one; where some young soldiers decided to mess with me by telling me my documents were no good and they were going to have to arrest me. They told me this with hand signals and gestures because they didn't really speak English. I was nervous until they handed my passport back, started laughing, and told me to "Have nice day!"
People in the south were very welcoming, if a little confused by my presence. A guy in a roadside convenience store offered me free popcorn as he quizzed me about what I do for a living. A man let me into the Al-Aan Palace when I knocked on the gate. He gave me a quick tour before he had to go pray. The various hotel staff fell over themselves to show me to my room and help with my bags and offer assistance with anything I could possibly think of.
I had heard two things about the south before going: one good and one terrible. The first was about their coffee. Arabic coffee is served all over the country at any time of day, but the south is supposed to have the best. The coffee beans are only lightly roasted (instead of burnt) and are ground and brewed together with cardamom. It has a unique bitter taste and is yellow in color.
The second was that it was dangerous due to its proximity to Yemen. Saudi Arabia and Iran have been fighting a proxy war in Yemen for the past seven years and there is always a risk of Iran-backed Houthi drone attacks in the south. I didn't feel any sense of danger during my time down there, but there was a heavy patrol presence and miles of barbed wire fence along the border. Evidently, the Saudis launched the heaviest air raid in more than two years against Sana'a while I was just 65 miles away as the crow flies. The strike was in response to a Houthi attack on a target in the UAE. A couple days later, while I was in Jizan, another strike killed 70+ people and knocked out internet for the entire country.
Again, I always felt safe while there. Without the news, I would have never known anything was happening across the border. The only time I felt in danger was when I misjudged my timing and had to take a work call from the car while driving into Jizan during rush hour. Nothing like driving into a foreign city in the dark while trying to navigate a Zoom meeting.
After spending a week in Riyadh and exploring the south on my own, I flew to Jeddah to meet up with Joan (who I traveled with in Kurdistan and met up with in Afghanistan) for his group expedition.
Sara, a local Jeddah resident (and local celebrity), was our coordinator. This was the part of the trip where I saw some of the most amazing sights Saudi has to offer. I also learned a lot about (and got to experience) real Saudi life and culture.
The first stop on the expedition was Al-Balad: Jeddah's old town. By far the most well-preserved old town in Saudi Arabia. So many of the old towns are under construction and in the process of being modernized, while Al-Balad is perfectly restored in a way that maintains what it used to be.
After spending about 3 hours walking around Al-Balad, and trying bailia (a street snack made from chickpeas, pickled cucumber and beets, salt, and cumin) from a street vender, we had dinner.
I learned a lot in conversations with Sara. She said 70% of Saudi's population is under 40 and they support MBS and all the changes he is making.
She also told us about her tv show and family. At one point, she compared us to camels in the sense that locals will stare at us like we stare at their livestock.
I also had the most expensive sheesha I have ever smoked. $30USD. Seems crazy, but it's a country with no alcohol, so a couple hours of sheesha in a fancy outdoor spot, while watching the young and beautiful out on dates and hanging with friends, was much less expensive than a couple hours in an American bar.
All hotels in Saudi Arabia have a sticker on the wall or ceiling pointing the way to Mecca. The Shada boutique hotel had a much fancier marker.
We also visited The Hejaz railway (coming from Damascus) at its endpoint in Medina. The Ottomans planned for it to reach Mecca, but WWI crushed those dreams.
The city of Medina has always been open to non-Muslims (unlike the city of Mecca), but I was surprised we were able to enter the haram area without any issue. 
Al-Masjid an-Nabawi (The Prophet's Mosque) is the second largest mosque in the world. Built by the prophet Muhammad in the first year of the Islamic calendar (622 CE), after the migration from Mecca to Medina (called Yathrib at the time), the mosque is the second holiest place in Islam and serves as Muhammad's final resting place (under the green dome).
We ended the day having a picnic and watching the sunset over the city. Then we packed up and drove through the evening to somewhere completely different.
Yanbu was a great spot to catch a boat out on the Red Sea, but as a city it left much to be desired. Maybe it was the long drive from Jeddah to Medina to Yanbu, but I was tired and achy when we finally rolled into town. 
A few of us grabbed some local fast food (liver and hummus, etc.), but most of the group went to the hotel. The driver took them to the wrong place and refused to help them unload their bags when they got to the right one. Then he came to pick us up and parked in a coffee shop drive thru and had cars honking at him. The next night we asked him to drive a few of us to the old town. He drove us somewhere, and it wasn't old, and when we asked him to find someone to get directions, he just went to the back of the van and smoked a cigarette. He was an interesting guy to say the least.
Some of the group got up early and went to the fish market the next day, but I slept in.
Two boats took us out to Al Bareedi island the next day. I had a moment of euphoria on the boat. Something about racing across the sea with the sun on my head and the droplets of water splashing up from below. The island was beautiful, with white sand beaches and crystal-clear water, with an apocalyptic abandoned oil refinery in the background.
A handful of us signed up for diving. It was a nice dive and I got to follow a turtle for a while. Unfortunately, they took us in two groups, so we were out there for way too long. The group still on the island thought we'd drowned.
When we got back to town, I was exhausted again, but went into the old area with some of the crew. There was a huge cruise ship in dock and there was a walkway called Tourist Street. The old town was not old at all; it was the first tourist trap I'd seen in Saudi Arabia.
After way too long, the rest of the group met us at Lawrence of Arabia's house, where a couple locals struck up a conversation and gave us a farwa coat, and then we went to an amazing seafood dinner. Everyone was starving and silent as they shoved food into their mouths.
I'm glad we got out on the sea and were able to dive, but I was also glad to leave Yanbu the next morning.
Hegra (Mada'in Salih) is an archeological site in Al-'Ula. It is the remains of a Nabatean city from about 2000-2500 years ago. These were the same people who built Petra.
Just a few years ago you could have wandered around these sites, camping wherever you wanted, but now that the Kingdom is opening to tourism, they understand the potential of this area and are putting infrastructure in place to cater to high end tourists.
I think Petra is the more impressive site, but it was still fun riding around in open air Land Cruisers and checking out insanely old stuff carved into insanely huge rocks.
The area of Mada'in Salih is mentioned in the Quran. Specifically, the story about how the Prophet Salih tried to convince the tribe of Thamud that there was only one true God. When he couldn't stop them from worshipping false idols, even after producing a miracle in the form of a pregnant camel rising out of one of the rocks, God killed the tribe with a massive earthquake.
It's for this reason many followers of Islam do not visit the site. There used to be a fatwa issued by the Saudi religious authority prohibiting people from visiting the area. That's all changed with tourism becoming a growing industry in the Kingdom. Now a UNESCO World Heritage Site, the area is one of the most visited places in Saudi Arabia, even though many people still consider it cursed.
We watched the sunset at Elephant Rock. This site is a good example of modernization done right. Comfortable seating pits were dug into the sand, allowing people to relax and socialize without affecting the natural beauty of the place.
Even more than being on the boat, this is the place where I really wanted a drink. I ended up having a coffee and bumming a smoke (my first in years) just to do something. The cigarette sucked and it didn't sate my appetite for a beer, but the desire to drink faded as we moved on.
The main strip in Al-'Ula looks like a movie set. It is a façade. The actual "old" part is hidden. It's the Disney version of what Saudi Arabia was like years ago.
We had a traditional dinner, sitting on the floor, while listening to live music from a small stage across the street. The Committee for the Promotion of Virtue and the Prevention of Vice (the religious police) no longer have any power in the Kingdom, so music in public settings is not uncommon, but there was something different about the scene in Al-'Ula.
I felt like I'd stepped into someone's Instagram reel. I wasn't surprised the next day when I learned there is a woman on Al-'Ula's tourism board whose sole job is to manage influencers.
This was not a place trying to attract backpackers. They wanted another tier of tourist in this area; the type with money to burn.
Dadān is an archeological site of a kingdom dating back to the 7th century BCE. It is mentioned in the Bible. There was some cool ancient graffiti, and some nice girls working at the women-ran craft store, but I couldn't really get into it. I think I was just tired.
I messaged Sara while we were at Dadān and asked her to try to pull some strings and get us in to see the Maraya concert hall, which she did. It ended up being a big ordeal because representatives from 21 countries were having lunch there. Sara's friend ended up coming and escorting us on a drive around the building, but we were unable to leave the van. Still cool to be able to see it though.
We stayed in trailers on a citrus farm while in Al-'Ula. The owners of the farm gave the group a tour of their citrus trees (which I missed), and they setup a tent at a viewpoint for us to have dinner in, but the goat that had been cooking in the ground all day wasn't ready until very late, so we ate in the dining area.
Everyone went into town before dinner and were exhausted by the time we ate. I stayed behind and enjoyed some alone time while they were gone, so I was one of the few who wasn't grumpy at dinner.
The goat tasted amazing.
Our slightly controversial Pakistani driver ate the tongue and cheeks while everyone else waited for him to drive them to the other farm.
Our driver left for Jeddah that night after dinner. I had issues with him in the beginning, but he ended up making me laugh quite a bit. I think his shyness was misunderstood as rudeness.
We said goodbye to Sara the next morning before heading to Tabuk in three Land Cruisers with a new guide and drivers.
We spent the day in Wadi Disah along the way. The mountainous region and oasis were an absolute surprise. Honestly, I didn't have high expectations, but it ended up being one of the best days of the trip.
Just rolling through incredible scenery in 4x4s and stopping for some short hikes; it was one of those places I would have never been able to experience if I was traveling solo.
We had a great lunch at a beautiful Bedouin farm with camels and goats.
One of the drivers almost fell asleep on the way to Tabuk, and the hotel couldn't find our reservations when we got there ("Are you sure you're at the right hotel?" "Nope, not at all"), but these types of things were par for the course by this point.
Tabuk as a city didn't have much going on, but I bought some local clothes for an upcoming adventure, and we watched the Saudi-Oman match while having a quick dinner.
The purpose of being in Tabuk was to visit Jabal Hisma.
Hisma is essentially an extension of Wadi Rum (where I camped when in Jordan). I was unnaturally cold when we first started exploring, but it warmed up as the day went on. It was another day of exploring by Land Cruiser. Our driver hit a berm a little hard and we cracked the front bumper pretty good. We walked down to a Bedouin camp for lunch while they worked on the car. It was an extremely peaceful place, and I took a quick nap under the tent.
We spent the day in the desert before returning to town, grabbing some quick food, and saying goodbye to those who were not returning to Jeddah. Then most of us caught a late flight.
Back in Jeddah, I said goodbye to most of the crew and planned the next leg of the trip.
Joan invited me to join Sara and her husband for lunch. Sara and Abdullah's main business is organizing trips abroad for Saudis. Their friend who is an archeologist joined us. It was a very nice restaurant with panoramic views of the city. We sat around eating and smoking sheesha and talking politics and the future of the kingdom, etc. We were the only ones in the restaurant. It could have been a Bourdain episode.
Random story, but one of Sara's best friends is the niece of Osama Bin Laden. Not that weird, because the Bin Landen's are a huge family, but still sad that a bunch of normal people have to live with the name Bin Laden.
That night I tried Al Baik (Saudi's own fast food chicken joint) for the first time.
On my own again, I caught a flight to the Qassim region. I landed at night, picked up a rental car (with an option to drop in Riyadh), then drove through the fog to the Al Malfa Resort in Unayzah.
The resort used to be a private residence and is in the middle of nowhere, surrounded by date palms. I arrived late and the five guys in the lobby did not speak English and were not expecting me. 
I learned the next morning I was the only guest in the entire place. I asked them how to get to the camel market and they gave me directions to the grocery store. After some back and forth, they understood where I wanted to go, but couldn't understand why I wanted to go.
I got to the market too late the first morning. Things were winding down. So, I went to see a mud village, but it didn't exist anymore.
Back at the resort, I just enjoyed the solitude and the beauty of my surroundings. I watched the Drew Binsky video from the south that had all the Saudis upset, read more of the Qur'an, had some laundry done, and asked one of the maintenance guys to help me up onto the roof to watch the sunset. 
It was a nice relaxing day after having been on the go for two weeks.
The next morning, I arrived at the largest camel market in the world at sunrise. It was freezing outside, but so worth it. It was chaos in the best way.
I was the only foreigner there and no one paid me any mind. I was walking around in the mud, with my camera and GoPro out, and no one even noticed. They were much too busy chasing and haggling over camels, then having them craned into the back of pickup trucks.
It was hands down one of the most local and eye-opening experiences of the trip.
That night my app turned from Green to White (Incomplete). I think it had something to do with the new triple vax rule that went into effect Feb. 1st. I gave up on the app at that point.
I drove from Unayzah to Riyadh, with stops in Al-Ghat (viewpoint and mud village), Ushaiqer Heritage Village (lots of local families and nice old women giving me short tours of all the buildings), and a drive by Diriyah (but didn't stop because it's closed for renovation). The entire drive took about 6 ½ hours and there wasn't a ton to see, but it was cool to be off the lightly beaten path.
I checked into a hotel right at the airport and packed a small bag to take out to the desert. The rest of my stuff would stay at the hotel, where I'd pick it up before my flight home after the Empty Quarter.
The next morning, I flew from Riyadh to Wadi Al-Dawasir to meet up with Meteb and drive into the darkness of the largest sand desert in the world.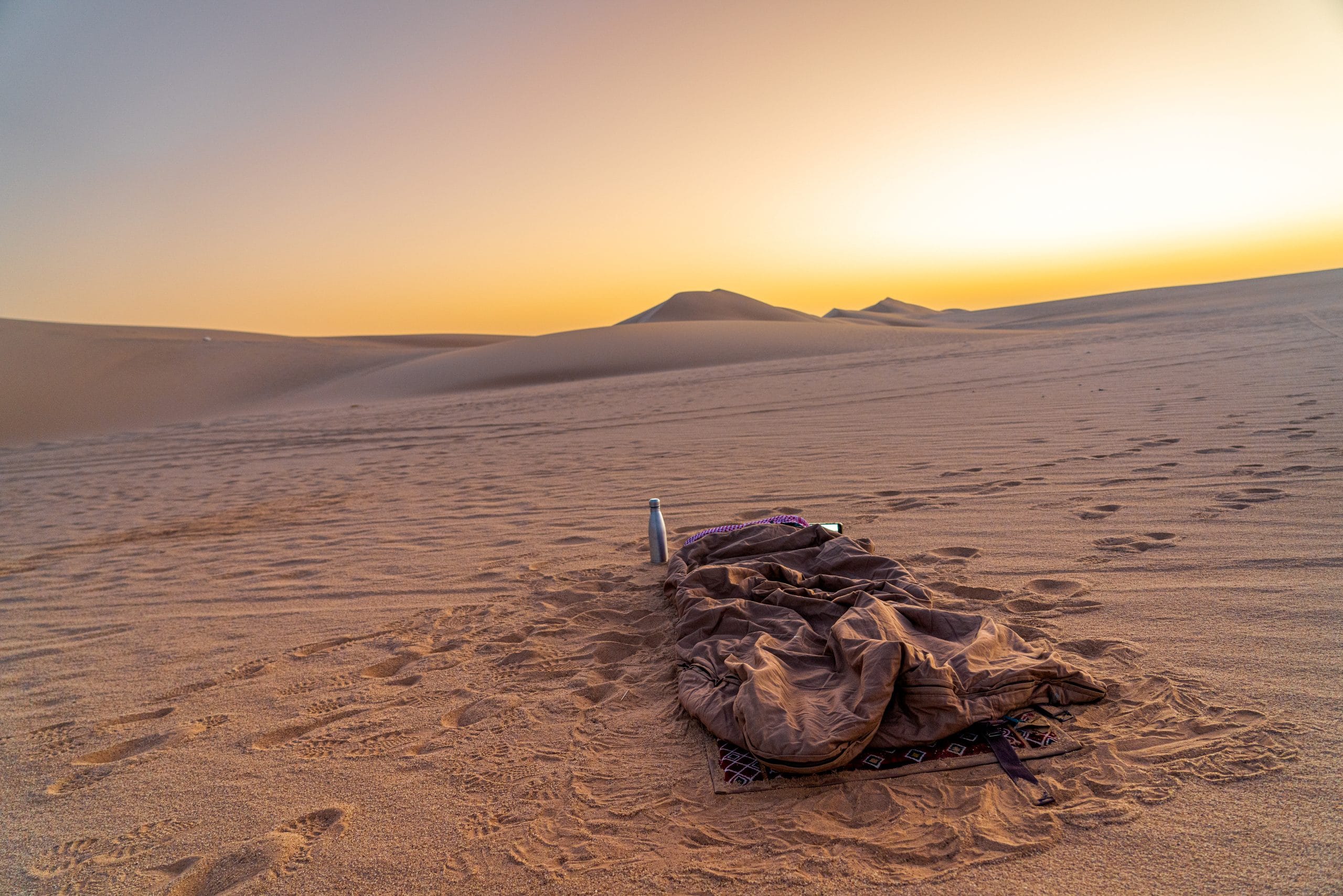 Flying into Wadi Al-Dawasir was bizarre. Nothing but desert and circle crops growing clover for the camels. Meteb picked me up from the tiny airport. We loaded into a couple Land Cruisers and took off into the night. 
Meteb runs these trips every weekend from November through February. It's too hot in the summer.
We drove about an hour out of town and then pulled off the road and started racing into the darkness. I have no clue how he knew where he was going. Visibility was zero.
After stopping to deflate the tires, we continued through the nothingness until we saw a small circle of lights. It was our campsite for the night. The driver with the supply truck had arrived and setup camp earlier.
Coming out to the Empty Quarter alone (or with anyone who doesn't spend half their life out there) would be suicide. Meteb and his crew have tricked-out Land Cruisers with a huge supply of water (via a facet near the rear tires), winches, air compressors, satellite phones, and a thousand liters of fuel. They don't use GPS though. They have it if they get in trouble, but they like to hone their skills with manual navigation. There is no cell service out there, so they use walkie talkies to communicate between vehicles.
We sat around the fire and had an excellent chicken stew while Meteb briefed us on our rough itinerary.
There was no way of knowing what our surroundings were that night because it was too dark. We were offered tents, but I decided to sleep outside. There was only a sliver of a moon and billions of stars. They were above me and on both sides of me to the horizon. I slept in my down jacket, a mask (for the sand), and a beanie. I wasn't cold, but a little uncomfortable on the hard sand.
I learned the next day, when I got up with the sun and had some zaatar and tea for breakfast, that we hadn't even entered the Empty Quarter yet. We were right on the edge.
It seemed like we were driving aimlessly around The Empty Quarter. The terrain was an optical illusion. We'd be speeding at 140km an hour on what looked like flat terrain and all the sudden the vehicle ahead or behind us would disappear, and then we'd be climbing and sliding down a giant dune. It was like skiing with bad goggles, with no depth perception. I was expecting an adventure, but I wasn't expecting a full two days of adrenaline rush. No photos or video can show what it was like. A lot of it was like being on a boat on the sea, rather than a Land Cruiser on the sand.
I say it seemed like we were aimless because that was an illusion as well. Dropping pins in Maps.me along the way showed we were traveling on a defined path all the way back toward Riyadh, but you would have never known it. Meteb and his guys are seriously master navigators.
There was no visible difference between hard and soft sand. We got stuck a few times, but Meteb was always able to get us out with some maneuvering and a little patience. The supply truck got stuck once. That was the only time they had to use the winch.
We had lunch in a small area with some poisonous greenery and some shade, we stopped and picked up some wood for the fire that night, then we found a random place to watch the sunset and set up camp.
The locals told stories around the campfire. One thing I never knew is that the British are responsible for Arabs from different countries wearing different colored scarves. The British couldn't tell them apart, so they sold red ones cheap to the Saudis, green ones cheap to the Iraqis, and black ones cheap to the Palestinians.
I set up a tent that night and finally finished The Qur'an, but I moved back outside before going to sleep. I woke up in the middle of the night thinking there was something in my tent (I was sleeping next to it). I was completely freaked out until it started to blow away. It was just the wind.
The next day was more fun in the sand, then we hit a dry lakebed that was 10 times the size of Riyadh. It had been dry for around 12,000 years. I spread some of my dad's ashes there and collected a few rocks for my daughter.
They encouraged us to collect rocks. That is sure to change once tourists start flooding the place.
We saw some sand fish (I don't know what they are really called), but no matter how hard Meteb tried, they refused to bury themselves with vibrations like they are known to do.
Our last stop was at a water well used by the Bedouins. There was a small pool that some people swam in, but it was freezing so I passed.
We had a nice lunch there and then drove to the exit of the Empty Quarter (via Layla) and back to service and civilization.
We only scratched the surface of the Rub' al Khali, but it was the most remote place I've ever been.
We dropped the others off in the Diplomatic Quarter, then Meteb took me back to the hotel, where
I used a conference room to change and wipe myself down with shower sheets, then I went to the airport and started the 24-hour journey home.
I didn't get rid of all the sand until I was in Colorado the next day.